Edward J. Olmos touches on lack of Latino talent in Hollywood: 'They take us for granted'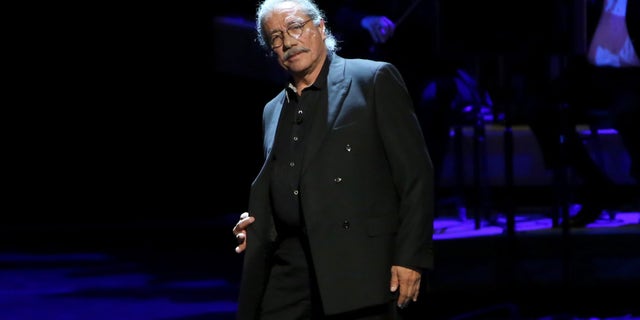 NEWYou can now listen to Fox News articles!
The lack of diversity in Hollywood seems to be talk of the town lately – people are not forgetting too easily the absence of Latinos or African-Americans among the Oscars nominees this year.
Yet Edward James Olmos has his own take on the matter.
In a recent interview with Fox News Latino, Olmos said it has in part to do with the fact that there are no Latino actors who can carry a film.
"Jennifer Lopez can't even carry a movie," he said.
The outspoken actor, who started out by giving us the memorable Lt. Castillo in the television hit Miami Vice, has long been a critic of Hollywood's lack of diversity in front and behind the screen.
"Discrimination has been around forever," Olmos told Fox News Latino.
Unfortunately, he said, Latino stories don't sell — despite Hispanics being the largest movie-going community.
He's the first Mexican-American to be nominated for an Academy Award for best actor since Anthony Quinn, who was last nominated in 1964.
In all the decades in between, Latinos have been vastly under-represented among nominees for Tinseltown's biggest prize, as well as other theater and film competitions.
"One culture spends so much money at the theaters, you just don't see us on screen," he said. "We are taken for granted (in all levels of society) … When they make our stories, they put a non-Latino in the role. They just don't get it."
Several Latinos have managed to break through the barriers, even getting on the coveted list of Oscar nominees and even winners.
Quinn, who was born in Mexico and whose birth name was Anthony Ruldolph Oaxaca Quinn, won and was nominated for Oscars in the 1950's and 1960's.
Javier Bardem landed his first Oscar nomination for best actor in 2000 for his role in Before Night Falls. Among many other honors, he also won a best supporting actor Oscar for his role of villain in "No Country for Old Men." And Demian Bichir landed a best actor nomination for his role in "A Better Life."
And there have been others, but, as Olmos sees it, not nearly enough.
Olmos, who received an Oscar nomination for his role as a teacher in 1988's "Stand and Deliver," added that it has nothing to do with making art, but instead it's all about the business.
He said the lack of diversity in Hollywood studios is what drives him to support independent projects like "Water & Power," which can be found on all online platforms.
"It's an original piece of work that was first done in a play," he said. "It's a wonderful statement … that allows viewers to experience a voice that has not been heard before."
The film, from playwright-turned-director Richard Montoya, tells the story of twin brothers Gilbert and Gabriel, whose father, a laborer for the Department of Water and Power in Los Angeles, tries to teach them how to fulfill their worldly ambitions while keeping true to their origins.
"It's very poetic and very well constructed," Olmos said. "These views of our culture are a fresh view. (Montoya) has a great way of making you think, making you laugh. It's great entertainment."