Duggar Family, Kelly Clarkson Enter Iowa GOP Caucus Fray With Candidate Endorsements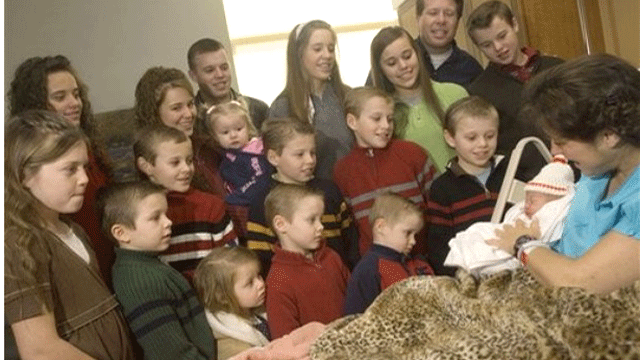 NEWYou can now listen to Fox News articles!
As the Iowa GOP Caucus approaches, some big-name stars are putting their support behind their GOP faves.
Rick Santorum received the endorsement of the Duggar Family, stars of the popular reality show "19 Kids and Counting."
Family patriarch Bob Duggar even rolled into Iowa with 12 of their 19 kids. Duggar's wife Michelle had issued a statement of support earlier, saying: "Santorum is a pro-life, Christian conservative with the family values and the common sense business perspective that we need to get our nation back on track, to create jobs and to stand for what is right."
Meanwhile the first 'American Idol' winner ever, Kelly Clarkson, has endorsed presidential wannabe Ron Paul, to the consternation of some of her fans.
"I used to like Kelly Clarkson. But I can't like anyone who is either ignorant enough or arrogant enough to endorse a candidate like Ron Paul," longtime Clarkson fan Sara Spafford Freeman told FoxNews.com last week. "I have listened to 'Since You've Been Gone' for the last time."
"I love Ron Paul," Clarkson tweeted Wednesday night. "I liked him a lot during the last Republican nomination and no one gave him a chance. If he wins the nomination for the Republican party in 2012 he's got my vote. Too bad he probably won't."
Many of Clarkson's Twitter followers immediately demanded that she retract her statement, but she refused and stood by her man.
And while she may have lost some old fans, judging from sales of Clarkson's most recent
Clarkson's record was up 192 percent on Amazon.com in the 24 hours following her endorsement, according the the entertainment site Gossipcop.com, shooting from #41 to #14.
Clarkson and the Duggars both follow the endorsement footsteps of Gary Busey, who earlier in December 2011 bestowed his favor on then-frontrunner Newt Gingrich.
"I've never met Newt before, but I know what he stands for," Busey told The Washington Scene.