Donald Trump, Hillary Clinton battle sparks big 'SNL' ratings comeback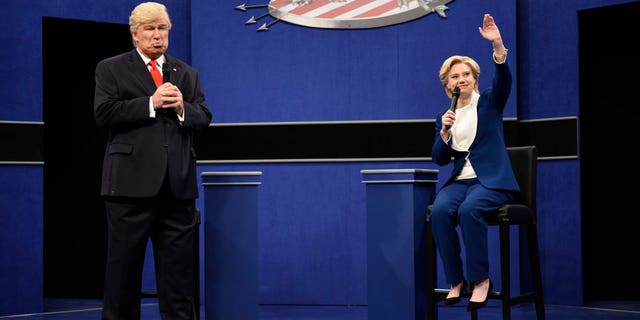 After several waves of subpar viewership, "Saturday Night Live" is winning in the ratings game, and all signs indicate NBC has the election to thank for that.
According to the Hollywood Reporter, "SNL's" ratings are up 20 percent from last year. Show skits that feature Alec Baldwin as Donald Trump and Kate McKinnon as Hillary Clinton are becoming must-see viral sensations that regularly get written about by entertainment news sites. And according to The New York Post, the "SNL" spoof of the first debate drew more viewers on YouTube than the actual debate.
This comes after The Post declared in 2015 that "Saturday Night Live" "can't be saved by nostalgia anymore," and The Wrap stated the show was "officially over-the-hill." In May, the show's season finale hit a season low, and in August stars Taran Killam and Jay Pharaoh announced their exit from the series.
But when its 42nd season premiered earlier this month, "SNL" saw ratings soar higher than they have in eight years, and much of the buzz was surrounding the show's Clinton-Trump skit. In the weeks since, the election-themed skits have garnered similar buzz, and "SNL" is reaping the rewards.
Paper Magazine's Editor at Large Peter Davis credited Trump with giving the show extra laughs.
"The wacko presidential race and Trump's easy to lampoon antics and rants are 'SNL's' comedic bread and butter. The election is often even described as like an 'SNL' skit. It's like the writers are being handed free material. Donald Trump and Hillary Clinton have inadvertently made 'SNL' hilarious," Davis said. "…Trump and his 'grab them by the p---y' comment could not be easier to make a zillion jokes from. Trump is the punch line that just keeps giving."
SiriusXM radio personality Rich Davis said the sketch show has the candidates to thank for the recent ratings boost.
"These two candidates have low approval ratings and are constantly saying and doing things worthy of parody. This election is practically writing 'SNL,' he said. "Donald saying things on a hot mic or Hilary having a coughing fit and doing a shoulder shimmy. 'SNL' is reaping all the benefits."
Davis said "Saturday Night Live" routinely sees a boost around election time and radio host Cristina Palumbo agreed.
The series saw ratings during the 2008 election, but according to the Hollywood Reporter, 2012 was less fruitful.
"It's an American institution with highs and lows like anything else," Palumbo said. "I look forward to it during an election year because it keeps me engaged in politics, shines a spotlight on real issues and takes the dullness out of the electoral process."
At least one person, however, is no fan of "SNL's" most-recent presidential-themed skits.
Trump recently tweeted that he was less than impressed with Baldwin's impersonation.
With the final debate on Wednesday night, it's doubtful "SNL" will leave Trump out of their skits anytime soon.