Documentary captures the legacy of Latino soldiers during the Vietnam War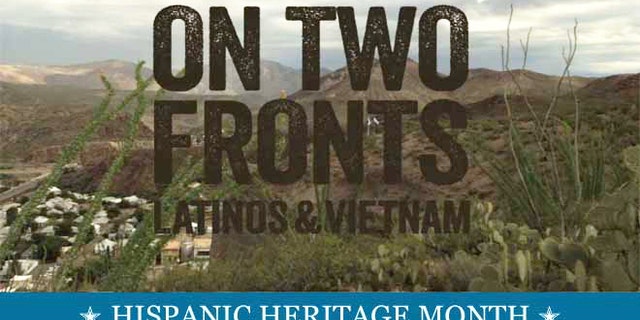 For many young Latinos the Vietnam War, which ended in 1975, is a distant historical event they can only read about.
But historian Tomás Summers Sandoval says that the war that can remind us that Latinos have always been an integral part of the fabric of the United States.
"We are at that very critical time – as you can see by the current politics of people like Donald Trump who are making the presence of Latinos to be nothing but a threat and somewhat of a recent phenomenon," Sandoval told Fox News Latino.
"Stories of Latino veterans and Latino involvement in the Vietnam War are a good reminder that Latinos have been part of this country – fully part of the fabric of this country – for generations."
Sandoval, who is in the history faculty at Pomona College in California, was a consultant on the new documentary, "On Two Fronts: Latinos and Vietnam," premiering on PBS on Tuesday.
For many Latino veterans who feel erased from the Vietnam experience in dramatic movies about the war, the documentary provides validation of their service.
"It's an important story we need to know and we need tell, something we don't hear a lot of – which are the experiences of Latino veterans in the United States" Sandoval said.
The documentarian Mylène Moreno told FNL, "I was 8 years old when the POW's were released from Vietnam in February of 1973, so I was just old enough to remember the trauma of that war."
Moreno says the movie can help educate new generations about Latino history. Her documentary points out that Latinos had high rates of participation — and mortality — in the country's armed services during the war, and argues that Latinos were unfairly targeted to enlist.
"Latinos just like other working-class kids from around the country were disproportionately affected by the war," she said.
Moreno says that at the time, only about 2 percent of college students were Latino so many young Latinos sought out the military on the promise of a better future.
"A lot of these kids found the military to escape their lack of other opportunity," she explained.
Summers Sandoval says Latinos have and continue to be targets of military recruiters.
He told FNL, "Five to six hundred thousand Mexican-Americans fought in WWII, thousands more in Korea, hundreds of thousands in Vietnam, and we continue to be that population that the military seeks out in order to meet its people needs."
Moreno says she hopes her documentary will also be a call to action.
"I hope that all Latinos will look at this film and think about war and policies and be engaged civically and think about how important it is to be serious about when we go to war and how we draw young people into war," she said .
She also hopes society can be a little more empathetic.
"I hope Latino young people see themselves in the veterans and have some empathy for what it was like to serve in that war, and come home to a very divided country and not be received as heroes."
The audience will see the Vietnam war through the lens of siblings Everett and Delia Alvarez, who stood on opposite sides of the Vietnam War, one as a POW and the other protesting at home.
The movie was filmed in the Southwest U.S. and in Vietnam. It also includes first-hand accounts from dozens of Latino veterans and their families and commentary from historians, social activists and other experts.
"On Two Fronts" also tells the service men and women's stories using home movies, archival footage, graphic newsreels, personal photographs and original music composed and performed by the Los Angeles-based band, Chicano Batman.
"It's important to recognize that Latinos are an immigrant-rich population," said Sandoval, "but we are also a part of the stable fabric of what makes this place what it is today."
"On Two Fronts" airs September 22, 2015 on PBS, watch the full episode here.