Did Chespirito Just Hit on Sofia Vergara?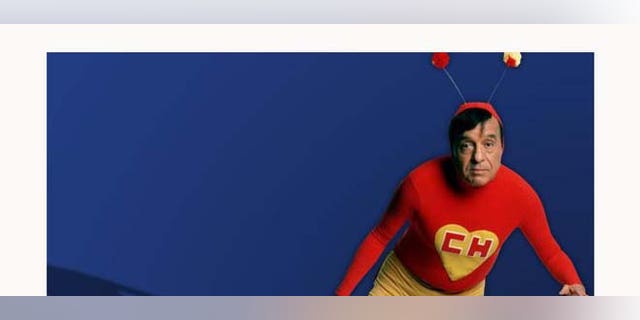 Roberto Gómez Bolaños who played the legendary Chespirito, known for his red outfit, cute antennas and big yellow heart, still has game.
Bolaños, 82, didn't hold back his flirty compliment when he tweeted the Colombian stunner Sofía Vergara about her striking good looks.
"@SofíaVergara I'm not going to ask how you are doing because, I can see how you are doing."
In recent weeks rumors were swirling that Bolaños' wife and co-star in both shows, Doña Florinda, had an affair during production with co star Carlos Villagrán, who played her son Kiko, multiple media outlets reported in Mexico. Um, awkward.
Seems like this did not phase Bolaños, who right after tweeting the flirtatious message to Vergara, informed his followers about his anniversary with Doña Florinda, whose real name is Florinda Meza García.
"Today is Florinda and Chespirito's anniversary," Bolaños tweeted in Spanish.
The actor, remembered for his catchy phrase "Siganme los buenos," (The good ones should follow me) when playing the charismatic superhero "Chespirito" was recently honored in Washington D.C. in light of Hispanic Heritage Month.
The Heritage Foundation acknowledged Bolaños' contributions in spreading Hispanic culture globally through his shows "El Chavo" and "El Chapulin Colorado."
Other prominent Latino entertainers such as Juanes and Luis Enrique were also honored with the foundation's Vision Award for their philanthropy, activism, and career achievements in the arts.
Both celebrities emphasized the importance on the DREAM Act for the Hispanic community.
Singers such as Rey Ruiz and Carlos Baute brough everyone to their feet during the gala.
Ruiz kicked off the night performing two salsa songs, while baute sang "Amarte Bien." (Loving You Well)
You can reach Alexandra Gratereaux at: Alexandra.Gratereaux@foxnewslatino.com or via twitter: @GalexLatino
Follow us on twitter.com/foxnewslatino
Like us at facebook.com/foxnewslatino