'Deadliest Catch' recap: Jake Anderson's crew man falls on deck in scary moment at sea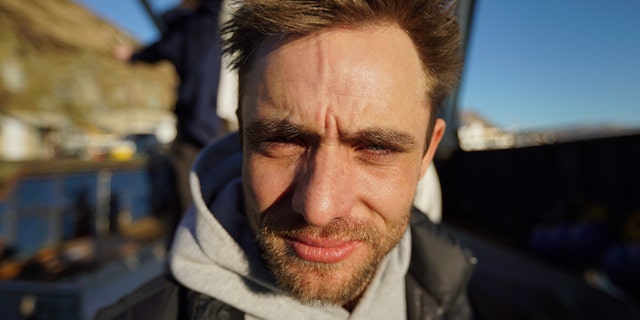 This season's "Deadliest Catch" has had its share of medical mayhem and on Tuesday night's episode of the Discovery Channel show, one of captain Jake Anderson's crew men got badly injured.
Earlier, Anderson had told the cameras that "the Bering sea is a taker of lives," and it almost happened to his deck hand Luce.
Anderson steered his ship the Saga in violent weather and was getting poor crab hauls.
And he was lamenting that he had a four man crew of greenhorns -- after he'd had to send his deck boss Sean Dunlop into alcohol rehab and fired worker Dean Gribble for insubordination.
The weather was horrible and Anderson swore at them when they left pots insecure on the deck and one guy got slammed by one as it slid into him.
He turned out to be okay but Anderson shuddered, "It would have killed him. That was closer than I ever want to see."
But a crew man named Luce wasn't so lucky later when he suffered an apparently serious injury.
After Anderson moaned about the lack of crab, Luce fell on deck.
"Hey, he fell!" another crew man suddenly shouted.
"Luce fell! Man down, Jake!"
While working on a stack of crab pots, Luce had lost his balance and toppled 15 feet to the deck.
Anderson went running down from the wheelhouse, asking his injured worker where it hurt.
"We're going to take care of you," he promised as he carried Luce inside the cabin.
Another crew man, Hannes, looked ashen with fear as he told the cameras Luce had cheated death: "I thought he went over the side. I thought he was gone."
Luce complained that his hip felt numb and Anderson suggested aspirin.
But, worried that the man might have a serious injury, Anderson soon called his mentor, Sig Hansen of the Northwestern, to ask for advice.
When Anderson told Hansen that Luce was puking, Hansen said, "He's probably got a concussion. You gotta take him in."
Meanwhile, Luce worried that he didn't have the money for medical care.
But, in another low moment in a disaster of a season for skipper Anderson, he headed to port so that Luce could get treated.
Also on Tuesday's episode, viewers saw captain Sean Dwyer paying tribute to his late father on his boat the Brenna A.
After finishing cod season and going back in search of crab, Dwyer vowed to maintain the family business for his mom and sister.
Dwyer had made a cork as a good luck charm that honored his dad—and his crew proceeded to haul in the biggest pot of crab for their whole season.
Dwyer called his mom to tell her about how the cork had brought them luck and she laughed through the tears, "Way to go, honey."