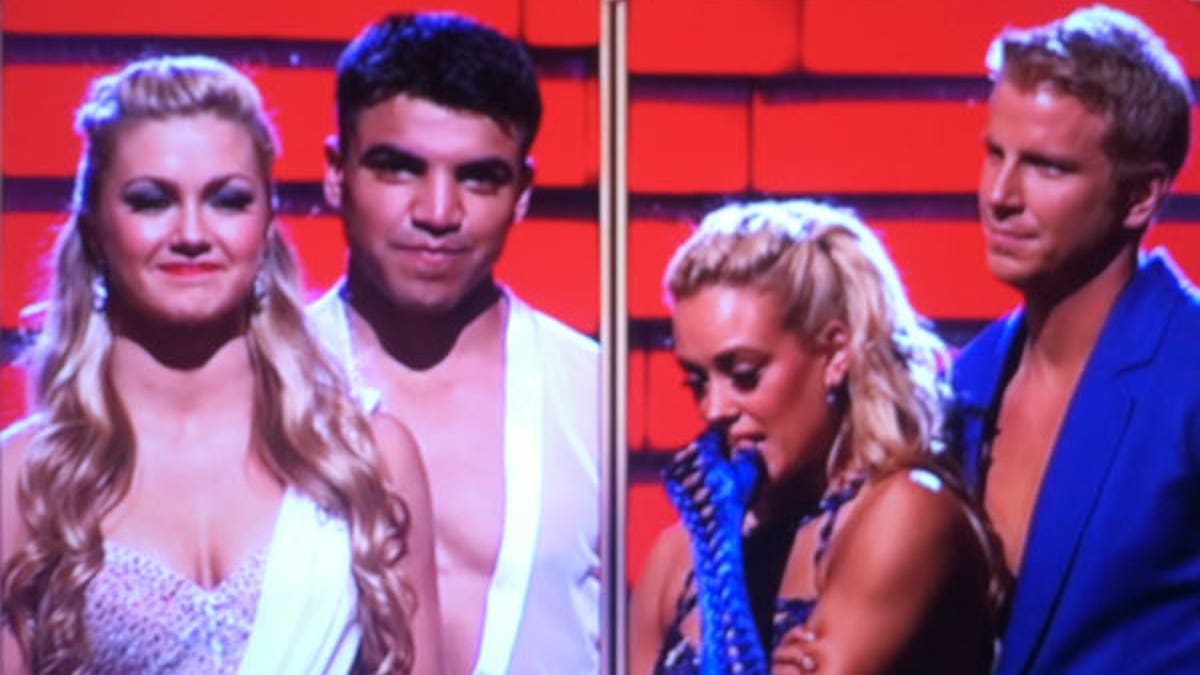 "Dancing With the Stars" has lost another celebrity. A night filled with amazing performances by both Olly Murs and Will.i.am, ended with another sad elimination. We were so bummed when Sean Lowe and Victor Ortiz were in the bottom two on April 23, and sadly, one did have to go home.
Team Paso Doble Wins The Encore Dance
Team Paso Doble — consisting of Aly Raisman, Andy Dick, Kellie Pickler and Sean, performed the encore dance beating out Team Samba, who went with a disco theme on this week's show.
Sean — the contestant who the judges told could make a career out of stripping on April 22, was not at the top of the charts. However, Kellie and partner Derek Hough were leading the race.
PHOTOS: 'DWTS' Season 16 cast photos
Olly Murs & Will.i.am Perform
Opening the show was a rocking performance of "Troublemaker" by English pop star Olly, who was extremely excited for to be there. Before going on, he posted a picture on his Instagram of him with Len Goodman. "Backstage with Len Goodman at #dwts trying to find Bruno!!! Haha," he wrote.
Olly wasn't the only performer tonight – we also saw Will.i.am, who sang "That Power," for the first time on network TV. The crowd seemed to enjoy the song, which features Justin Bieber. Unfortunately, the electronic show and choreographed dance just showed Justin appear on the back screen instead of making a surprise appearance… yes, we were hoping he would somehow show up – from the other side of the world.
Victor Ortiz Gets Eliminated
Professional boxer Victor Ortiz and his partner Lindsay Arnold unfortunately got knocked out on April 23.
"I don't take nothing back," Victor said after the elimination. "I made great friends It was a heck of an experience. And hopefully these beautiful people will follow me to my next national championship."
Well, we love his positive attitude.
On the bright side, next week will be LATIN week!