'Dancing With The Stars' recap: Star reveals struggle with bulimia before elimination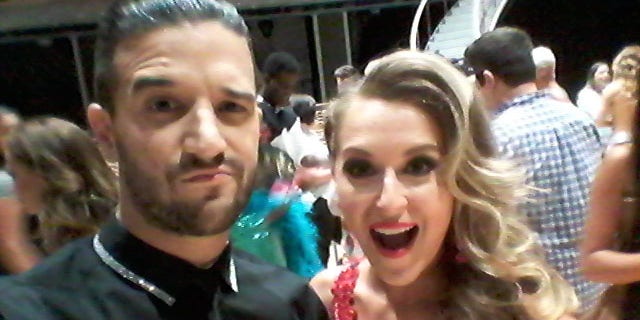 NEWYou can now listen to Fox News articles!
Alexa PenaVega earned a perfect score for an emotional performance reflecting her past struggle with bulimia on "Dancing with the Stars", but later suffered a shocking elimination during Monday's show.
In rehearsal footage, PenaVega admitted to dance partner Mark Ballas that when she was a child actress, producers cruelly told her she was too fat.
"For the next six years, I had an eating disorder. I struggled with bulimia," said the tearful star, whose husband Carlos is also competing on the ABC show. "This was a part of my life I was scared to have people find out."
PenaVega, 27, a strong dancer whose mistakes hurt her in the competition, also confided that insecurities about her body stemmed from her bulimic years.
On Monday, the dance couple performed a cathartic contemporary number set to the song "Make it Rain", in which a black-clad Ballas spun and pulled PenaVega around the ballroom floor. At the end, PenaVega, clad in a white dress, walked away from Ballas, who was left in a heap on the floor.
The judges gave them a perfect 30 points, with Carrie Ann Inaba raving, "That was not only dance, that was healing."
Later, PenaVega and Ballas got a second perfect score for a duet dance with Bindi Irwin and her partner Derek Hough based on the musical "Chicago."
To everyone's surprise, however, PenaVega was sent home at the end of the night after being placed in the bottom two with her husband.
After the show, the actress told reporters she felt relieved to finally reveal her bulimia agony, which started when she was 15 and lasted until she was 21.
"I knew that one day I would talk about it, I just didn't know when the right time would be," she said, "and I'd opened up to Mark about it briefly over lunch one time and when Carlos talked to me last week, he's like, 'Babe, I really feel like you have to do this. I feel you can help people, inspire people' and he's like, 'then you can let it go.'"
PenaVega, a Christian who met her husband in Bible study, said, "That's when it kind of clicked for me, I had his support, I had to go and think about it myself. I was like, oh, my gosh. God has given me the best platform to shine a light on something that was so negative in my life. Now we can go help other people.
"I wish somebody was real with me about [bulimia]. You read all these books on how to get over it but you're just so afraid of somebody finding out you have it. Even going out and buying a book on an eating disorder is embarrassing, so I always felt trapped, like it was going to be something that was with me forever. And instead of that, we conquered it, we got over it and this [DWTS revelation] is the last final thing to let it go."
PenaVega admitted to FOX411 it wasn't easy to share her secret, especially with the man she loved.
"That was the scariest part was having to tell Carlos because I knew that our relationship was very serious and at some point I was going to have to share it with him. We weren't engaged yet, we were boyfriend and girlfriend, but I just wondered, 'What is he going to think of me? Is he going to leave me? Is he going to think this is something we can't get past?'" she said of the singer whom she married last year.
"How do you tell somebody you love and care about hey, I did this and it wasn't like I did it for a little bit of my life, I did it a very long time. He's like, 'Babe, I'm here for you always. If you ever feel like you're struggling, I'm here.' It was just such a relief."
PenaVega told reporters her elimination was "a bummer," but she emphasized what she gained from being on "DWTS": "I was so uncomfortable going out there because I still felt strangely awkward about my body and I'm like, 'Why am I still feeling this way? This is something that's been over for so long.' For me, tonight was the final night of letting that go and finding an amazing confidence throughout this journey."