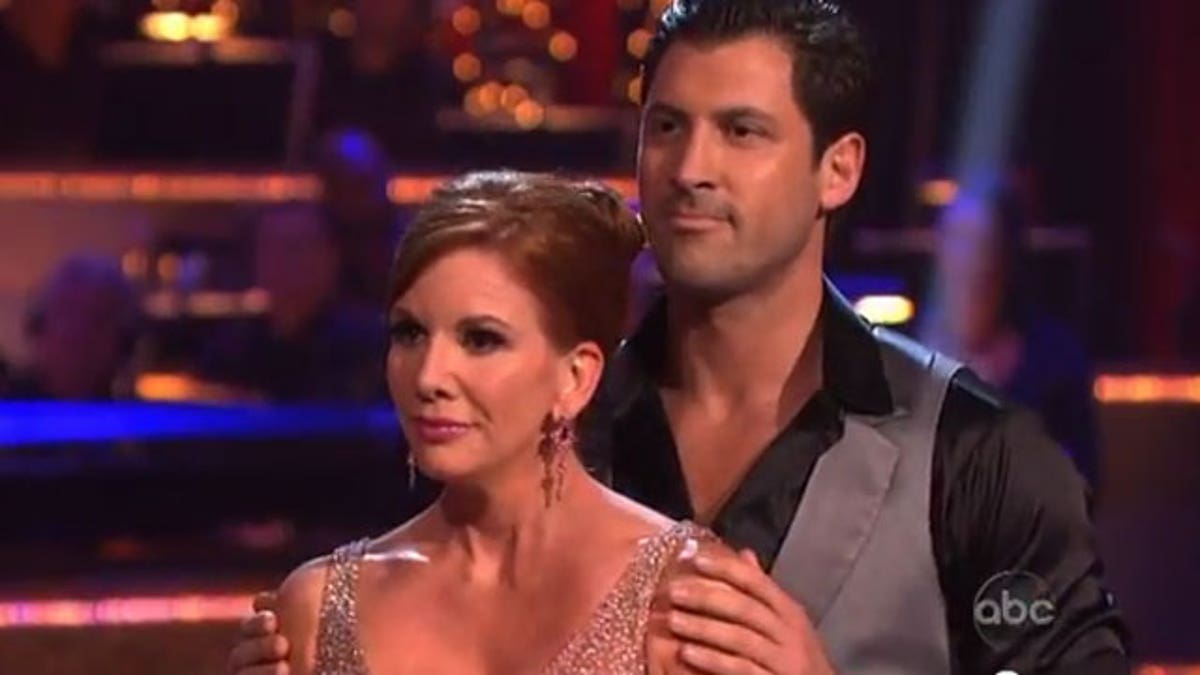 After the highest-scoring and universally hailed best premiere in Dancing with the Stars history, the 12 couples are back with their Week 2 routines. How did they stack up to their debut performances? Find out below!

Holy Brooke's cleavage, Batman! Did someone tell her to bust out the girls after last week's ratings? On a slightly better note, her dress — yet another prom-ready confection — is reminiscent ofBelle's gold dress from "Beauty and the Beast," and Belle is, obviously, the best Disney princess. Anyway, before we get blinded by Brooke's boobs...
Melissa Gilbert and Maksim Chmerkovskiy: quickstep
They're dancing to Billy Idol, whom Melissa dated in the '80s. Rob Lowe. Tom Cruise. John Cusack. Billy Idol. One of these is not like the other. Anyhow, Melissa's better than last week, but the whole thing is kind of a snooze, especially after the first two firecracker dances. She's hitting her steps, except for one slip-up, but she's still too tight and reserved.
Carrie Ann wants her to be careful with her shoulders. Len thinks she started out well, but lost energy toward the end. Bruno says she's thinking too much, but loved her speed. In related news, Maks cried watching "The Lion King." Um, who didn't?
Score: 20
Total: 40


Jack Wagner and Anna Trebunskaya: jive
Anna wants Jack to shake his bum, but he says there's not much there to shake. It's cute how badly Jack wants this... but he wants this too badly. He's basically the opposite of Melissa. He's attacking it with gusto and it's kind of rough all around. Unlike Melissa, the energy and conviction are there. Len thinks he will go through to next week. Bruno says he lost his kicks a few times. Carrie Ann thinks he over-danced it.
Score: 21
Total: 44

Roshon Fegan and Chelsie Hightower: quickstep
Chelsie tells Roshon to be a prince and tries to speak his language by freestyle rapping. And we use that term loosely. Roshon does look like a little prince. The question last week was whether or not he could do non-freestyle stuff? Well, he definitely can. His footwork is sharp, and he's fluid and graceful throughout the whole routine, which is fresh and youthful. Let's ignore the fact that they're doing a quickstep to "Lifestyles of the Rich and Famous."
Len tells him to look at his face. "I liked it!" he exclaims, adding that Roshon did something that nobody ever does in the quickstep. Bruno says he has more sparks than a bolt of lightning. Carrie Ann says he had fantastic technique.
Score: 26
Total: 49

Sherri Shepherd and Val Chmerkovskiy: jive
Sherri thinks the jive is a good dance for her "if I'm 20 pounds lighter." "My equipment is way too heavy for all that bouncing around," she says. "Val, once you go thick, you ain't ever gonna quit." And why should he when he's got Sherri? She clearly needs to work on her stamina, but what she lacks there (and in technique), she more than makes up for in sassiness, energy and confidence. The woman does not have an "off" switch. She flubs in the middle, but just continues plowing through the whole thing like she totally meant to do that. Bruno says she missed a pass, but he doesn't care. Carrie Ann is in love. Len says he felt good, but would've liked some more jive content.
Score: 23
Total: 46


Gladys Knight and Tristan MacManus: quickstep
Gladys is cool with the heavy competition since, you know, she used to face off against James Brown and Otis Redding back in the day. OK, first, Tristan looks dapper as ever in his penguin suit! With blue lining! Gladys does an adequate job and she nails the few steps she has, but the routine is not quick and Tristan's leading her around most of the time. It also ends abruptly without any payoff.
Bruno loves the connection and wants Gladys to be careful with her frame. Carrie Ann agrees and found it too casual. "You were too busy gazing into Tristan's eyes," she says. Aren't we all?! Len goes on a long spiel about how glad he is she got through the quickstep because he is not feeling the dance. At all. Cue the boos. And more boos when he whips out the 5.
Score: 19
Total: 42

Katherine Jenkins and Mark Ballas: jive
Katherine feels the pressure at the top and doesn't want to shake her "naughty bits" as Mark wants her. "It's the Welsh Wiggle," he tells her. And wiggle she does. Katherine is just a great dancer and she's got legs for days. Her flicks and kicks are sharp, and she's keeping up with Mark's torrid pace. Mark's back to hamming it up (it was too good to last), but at least Katherine's awesomeness is diverting attention from it. Carrie Ann is hot and bothered. Len wasn't feeling the middle section, but likes it. Bruno says the blonde bombshell is unleashed. "I know sexy when I see it and you've got it," he says, noting her flicks.
Score: 26
Total: 52

Jaleel White and Kym Johnson: jive
Kym has a crazy eye that means she's pleased, but not satisfied so she'll throw in something else, Jaleel says. Oh, those devious Aussies! If Kym tossed it any big moves, we're definitely not seeing it. Jaleel delivers an OK performance, but it's all a too soft and safe. No sizzle, no spark. The energy's low and so are his kicks, which is sort of a letdown after his stellar debut. Len says it lacked attack and speed. Bruno loves the performance, but not the technique. Carrie Ann says he was flatfooted.
Score: 22
Total: 48

Maria Menounos and Derek Hough: quickstep
Their theme is Bonnie and Clyde. It's all fun and cackling laughs until Maria bruises her rib. But it's mind over ribs, she says. This is a quintessential Derek routine. It's flashy, dynamic with ambitious choreography that doesn't feel like filler. Nerves-free, Maria is about 15 times better than last week. She's totally into it, loose, hitting the steps and keeping a solid frame. She messes up in the middle, though, but recovers about as well as anyone who's not named Sherri Shepherd could.
Bruno demands a kiss and raves about her hold. "It was a near perfection ... except you lost a step," he says. Carrie Ann says she got out of sync in the middle, but calls it a huge improvement. Len brushes off the mistake because they had balance, speed and control, which he calls "two things." Someone teach Len to count again.
Score: 25
Total: 46

Martina Navratilova and Tony Dovolani: jive
Martina's first injury ever was on her left toe, which is exacerbated when Tony slides her underneath his legs and she starts crying. Uh, can you not change it, dude? They perform it without a hitch, but the rest of the routine is unfortunately a bore. The effort's there, but Martina's still too hesitant and too within herself for something as free as the jive. You know it's not good when Tony reverts to his tried and true method of slowing down to dance to his partner's speed. (Think Kate Gosselin.)
At least Jimmy Connors gives it a 10. Carrie Ann loves Martina's attitude, but points out the misses. Len calls it too neat and too precise. Bruno says it went into the net, but hopes she comes back next week and hit an overhead smash.
Score: 17
Total: 37

Donald Driver and Peta Murgatroyd: quickstep
Quickie doing the quickstep! He can't handle all the moves Peta's throwing at him in rehearsals, but he's looking pretty much perfect on the floor. Donald's elegant, sophisticated with some gorgeous lines and holds. The routine also tooth-achingly sweet (in a good way, especially with Donald's teeth.) Len loves the performance and admits that he under-marked Donald last week. Someone consult the "Dancing" annals. Is this the first time Len's admitted he's wrong? Pigs = flying. Bruno loves that he took their critiques to heart. Carrie Ann says all the years of watching the show has paid off for him.
Score: 24
Total: 45

Gavin DeGraw and Karina Smirnoff: jive
Gavin wants to quit the jive cold turkey. "Have you ever seen smoke stacks come out of people's ears?" he says. "That's when I know I have to get serious." Gavin's surprisingly not as clunky as I thought he'd be. Who would've thought he'd be better at the jive than the foxtrot? His footwork's weirdly off, but he's doing a good job selling it and unlike Martina, he's not afraid to cut loose, for better or worse.
Bruno loves him in leather. Carrie Ann loves how he pushed himself. Len compliments his energy and attitude.
Score: 21
Total: 41

William Levy and Cheryl Burke: quickstep
Everyone got your earplugs? William's never heard of the quickstep before and is worried because there's no Latin business going on in it. Cheryl gives him a posture bar to help his frame, and that it does. His hold and posture are great and he's got an old-school movie star vibe going on. His footwork needs more polish, but he's in more control here than he was last week.
Carrie Ann calls him the Harry Connick Jr. of the ballroom. Len says he needs cleaner footwork. "Even fully clothed, you have the ability to dazzle," Bruno says, before comparing him to Jean Dujardin in "The Artist." We would pay for the studio to be silent right now. Also, if that super adorable kid they keep cutting to is William's, that's just cheating at this point because he does not need the extra votes.
Score: 25
Total: 49

So after two weeks, Katherine and Mark are on top by themselves with a 52, and Martina and Tony are dead last with a 37.

What did you think? Is Katherine the one to beat? Is Martina all but done? Has Len ever admitted a mistake before? Do you see smoke coming out of Karina's ears? Did you cry during "The Lion King" too? Will the screams ever die for William? Do also you get lost gazing into Tristan's eyes? Who do you think will get the boot?

View original Dancing with the Stars Episode Recap: Monday, March 26, 2012 at TVGuide.com
Other Links From TVGuide.com