Cranberries singer Dolores O'Riordan died by drowning due to alcohol intoxication
The Cranberries lead singer Dolores O'Riordan died by drowning due to alcohol intoxication, a British coroner said Thursday.
O'Riordan, 46, was found submerged "face up" in a bathtub at a London hotel on Jan. 15, witnesses told a coroner's inquest at Westminster Coroner's Court. She was wearing her pajamas at the time.
Toxicology tests showed that O'Riordan didn't take drugs except for her usual prescription medication, but did drink excessive amounts of alcohol prior to her death, Sky News reported. There were five empty miniature bottles of alcohol and a mini bottle of Champagne in the hotel room. Her prescription medication for bipolar disorder was also found at the scene.
O'Riordan's blood alcohol level was four times over the legal driving limit. There was no note left and no evidence of self-harm.
"There's no evidence that this was anything other than an accident," Coroner Shirley Radcliffe said.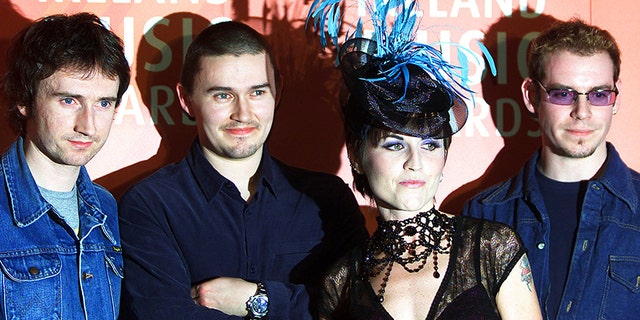 Inquests are held in Britain to determine the facts in sudden, violent or unexplained deaths. O'Riordan's inquest was held on what would have been her 47th birthday.
O'Riordan was The Cranberries' main lyricist and co-songwriter, and her powerful, sometimes wailing, voice was key to the band's distinctive sound.
DOLORES O'RIORDAN'S BOYFRIEND SPEAKS OUT AFTER CRANBERRIES SINGER'S DEATH: 'I AM LOST'
Formed in Limerick, Ireland, at the end of the 1980s, The Cranberries became international stars in the '90s with hits including "Zombie" and "Linger" that fused the alternative rock edge with Celtic-infused pop tunefulness.
The band split up in 2003 but reunited several years later. The Cranberries released the acoustic album "Something Else" in 2017 and had been due to tour Europe and North America. The tour was cut short because O'Riordan was suffering from back problems.
On Thursday, the court heard that the singer went through periods of excessive drinking. Dr. Seamus O Ceallaigh, O'Riordan's psychiatrist in Ireland, said he believed the singer had "an episode of mania or elevated mood" the night of her death. Ceallaigh said he saw O'Riordan a week before her death and was in "good spirits."
The singer was in London for a recording session and was expected to head back to New York. She was also planning a tour.
O'Riordan's bandmates also released a statement on The Cranberries' Instagram page shortly after the inquest on Thursday, saying they continue "to struggle to come to terms with what happened."
"Our heartfelt condolences go out to Dolores' children and her family and our thoughts are with them today," the statement read. "Dolores will live on eternally in her music. To see how much positive impact she had on people's lives has been a source of great comfort to us. We'd like to say thank you to all of our fans for the outpouring of messages and their continued support during this very difficult time."
Fox News' Sasha Savitsky and The Associated Press contributed to this report.