Country star John Rich shares his thoughts on socialism: 'No thanks'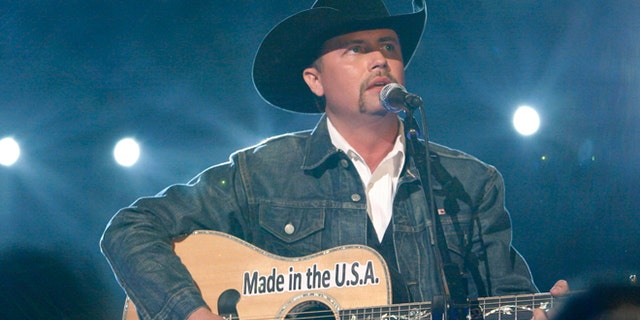 Country star John Rich is sharing his thoughts on socialism.
"I hear many young folks are leaning socialist?" the Big & Rich singer wrote on Twitter Thursday.
He continued: "What if: Socialism was applied to schools? Some make A's, some make F's. According to Socialism, the teacher would average the grades and everybody gets a C. Sound good? Might want to study up on what you're proposing. #NOTHANKS."
The 44-year-old's tweet garnered a number of responses including one from a social studies teacher who applauded Rich's tweet, explaining that they "proudly teach our Constitution and the Republic in which we live," and the singer's "exact example is how I explain socialism to my 8th grade students."
"God bless you J.R.," the Twitter user wrote. Replied Rich: "Good to hear!"
"Many Americans are taught that happiness is a right in the USA. It's not," he added. "The right to PURSUE happiness is guaranteed. Socialism says that all people should be 'happy' and in the same situation. That credo kills drive and dries up the spirit of entrepreneurism."
Last November, a study found that nearly half of all U.S. millennials believe the greatest safe space of them all would be living under a socialist regime.
According to YouGov and Washington, D.C.-based Victims of Communism Memorial Foundation — which surveyed over 2,000 people regarding their views on socialism and the communist political system — one out of every two millennials surveyed said they would rather live in a socialist or communist country over a capitalist democracy like the U.S.
"Millennials now make up the largest generation in America, and we're seeing some deeply worrisome trends," Marion Smith, executive director of the foundation, said in a statement to Fox News at the time.
"Millennials are increasingly turning away from capitalism and toward socialism and even communism as a viable alternative."
Per the study, nearly 45 percent of millennials polled said that they would prefer to live in a socialist country compared to the 42 percent who said they preferred a capitalist one. Another 7 percent said that the preferred living in a communist country above all.
The findings showed that the percentage of millennials who prefer socialism over capitalism if a full 10 points higher than that of the general population.
Fox News' Perry Chiaramonte contributed to this report.