Country music's 'Girl Crush' drama: Country radio pulling song from airwaves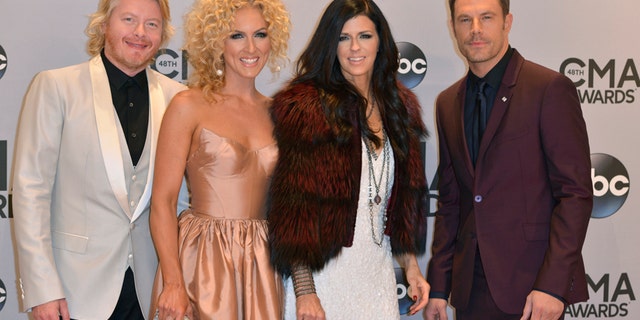 NEWYou can now listen to Fox News articles!
Little Big Town's latest single "Girl Crush" has been at the tops of the country charts on iTunes for several weeks. However, according to a Washington Post report, the ballad is being pulled from country radio stations across the country after fans have complained the song's lyrics are inappropriate.
Indeed "Girl Crush" didn't even crack the Top 25 on Billboard's Country Airplay radio chart for the week ending March 21.
A Boise, Idaho country radio host Alana Lynn told the paper that she was surprised when fans threatened to boycott her station saying the song "promot[es] the gay agenda."
The lyrics these fans are upset over?
I want to taste her lips, yeah 'cause they taste like you/ I want to drown myself in a bottle of her perfume/ I want her long blond hair, I want her magic touch/ Yeah 'cause maybe then, you'd want me just as much/ I got a girl crush.
One industry source told FOX411 that her particular station hadn't received any complaints or issues regarding the song. "We do play the song a lot..not sure what I'm missing but isn't [it] a song about cheating? Definitely not the first song about that."
A New York-based station responded to fans' request to play "Girl Crush," saying they have been consistently playing the song for "weeks."
In fact, according to the band, the song isn't even about a woman in love with another woman. It's about a scorned woman who is trying to understand why her man left her.
"Country music was built on songs about heartache and jealousy," Little Big Town's Phillip Sweet said of the song in an interview with Vevo.
"This woman is just looking at the woman her man left her for and wondering, 'What does she have that I don't have? What am I missing? What is it that she's giving you that I can't give you?'" the band's Kimberly Schlapman explained.
Fellow country artists and Nashville songwriters have chimed in on the controversy in support of Little Big Town. Singer Charlie Worsham pointed out that fans should take more issue with the "boozy objectification of women" seen in many of today's country tunes.
Songwriters Natalie Hemby ("Automatic," "Pontoon") and Shane McAnally ("Freestyle," "Follow Your Arrow") shared their disappointment with country radio.
A similar issue occurred with Kacey Musgraves' award-winning song "Follow Your Arrow" which referenced same-sex kissing. The song was a success commercially as well as within the industry, but it also struggled to find a home in country radio.
Listen: Little Big Town - Girl Crush (Lyric Video)
Country radio host Bobby Bones, while interviewing Little Big Town, expressed his frustration over the schism between what sells and what country radio airs.
"It shouldn't even matter if it's a lesbian song, is the first thing," Bones said on his show. "Is it frustrating to you that here is your song — that is one of the Top 10 sellers for weeks and weeks and weeks — and people on the radio are still afraid to play it because they think it's a 'lesbian song?'"
The band agreed, with the lead vocalist of "Girl Crush" Karen Fairchild saying, "Just the fact that we're still discussing that, number one, there's so many problems with that whole issue."
FOX411 Country: Shania Twain sounds off on women in country music