Comedian Joan Rivers Dies At 81, Daughter Melissa Rivers Confirms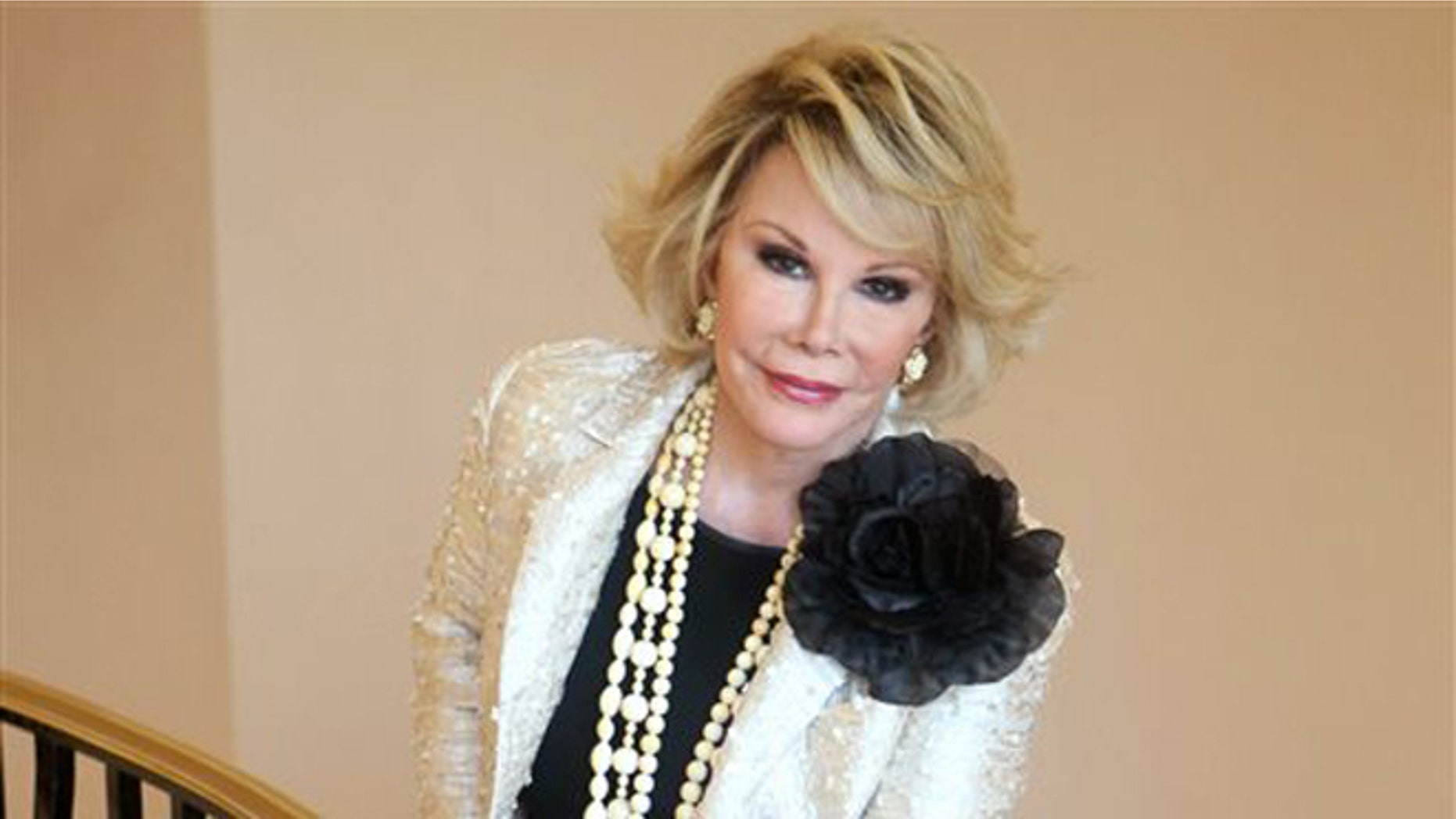 Joan Rivers, the raucous, acid-tongued comedian who crashed the male-dominated realm of late-night talk shows and turned Hollywood red carpets into danger zones for badly dressed celebrities, died Thursday. She was 81.
Rivers was hospitalized last week after she went into cardiac arrest at a Manhattan doctor's office following a routine procedure. Daughter Melissa Rivers said she died at Mount Sinai Hospital in New York, surrounded by family and close friends.
"My mother's greatest joy in life was to make people laugh," Melissa Rivers said. "Although that is difficult to do right now, I know her final wish would be that we return to laughing soon."
Rivers — who made "Can we talk?" a trademark of her routines — never mellowed during her half-century-long career. She had insults ready for all races, genders and creeds. She moved from longtime targets such as the weight problems of Elizabeth Taylor, of whom she said "her favorite food is seconds," to newer foes such as Miley Cyrus, and continued to appear on stage and on TV into her 80s.
With her red-carpet query "Who are you wearing?", the raspy-voiced blonde with the brash New York accent also helped patent pre-awards commentary — and the snarky criticism that often accompanies it, like cracking that Adele's Grammy wardrobe made the singer look like she was sitting on a teapot. Rivers slammed actors at the Oscars, Emmys and Golden Globes for E! Entertainment. In 2007, Rivers and her partner-in-slime, daughter Melissa, were dropped by their new employer, the TV Guide Channel, and replaced by actress Lisa Rinna. But they found new success on E! with "Fashion Police," which Rivers hosted and her daughter produced.
No performer worked harder, was more resilient or tenacious. She never stopped writing, testing and fine-tuning her jokes.
"The trouble with me is, I make jokes too often," she told the AP in 2013, just days after the death of her older sister. "I was making jokes yesterday at the funeral home. That's how I get through life. Life is SO difficult — everybody's been through something! But you laugh at it, it becomes smaller."
Celebrities quickly reacted to the news.
"Glee" star Naya Rivera, who co-hosted an episode of "Fashion Police" shared a snapshot of the two at the show's set. She captioned it: "A life well lived. My heart goes out to Joan's family, friends, and co workers. Thank you for all the laughs. Rest in peace funny, fearless lady."
Demi Lovato tweeted: "RIP Joan Rivers... You made fun of my boobies just last week and it was an HONOR. Thanks for making so many people laugh here on Earth."
Zoe Saldaña tweeted: "My heart is absolutely broken. My prayers go out to #JoanRivers and her family. RIP#JoanRivers"
Journalist Geraldo Rivera wrote on Twitter: "So sad about dear friend Joan Rivers. Her spunk &good humor made the world a happier place. heartfelt condolences to Melissa&grandson Cooper"
"Glee" star Harry Shum Jr. called her a "fearless trailblazer."
"And a funny one to boot. My thoughts are w/ Melissa & the Rivers family," he tweeted.
Playwright Lin-Manuel Miranda tweeted: "RIP Joan Rivers. One of a kind, trailblazer."
Jai Rodriguez shared a photo of the two via Instagram, captioning it: "Love you joanrivers. You will be missed."
Victoria Justice said: "I just heard the sad news... RIP Joan Rivers :( My sincerest condolences go out to her family."
Actress Eva Longoria shared her condolences. She tweeted: "So sad to hear we lost a great person today! #RIPJoanRivers"
In an emotional tribute, blogger Perez Hilton shared a snapshot of the two on Instagram.
My heart is so heavy right now. Like all public figures, the person audiences see isn't always the same person you get in private," he captioned it. "The Joan Rivers I knew was the kindest, most thoughtful person. She welcomed me into her home. She had me on her reality show. She offered me advice and was a always a cheerleader for me. She championed me when others wouldn't. She always asked about my family and once sent me back from her house with so much jewelry for my mom. That's the kind of person she was! Her heart was as big as her talent, which was still super sharp! When I saw her perform in June she did an entire hour-long show and was so vibrant and funny! She also made sure to tell me that night that if I needed help with anything in New York City, from finding a doctor to schools for my son, that she was there for me. And she will always be there for me. She was a pioneer and a true icon! I am sending so much strength and healing energy to Melissa and her son and all of Joan's loved ones. She went out strong and doing what she loved till the very end. Inspiring! #JoanRivers #Icon #Legend #Pioneer #Forever"
Rivers once joked that there was not "one female comic who was beautiful as a little girl." She was born Joan Molinsky in Brooklyn to Russian immigrants Meyer Molinsky, a doctor, and Beatrice. Rivers had a privileged upbringing but struggled with weight — she was a self-proclaimed "fatty" as a child — and recalled using make-believe as an escape. After graduating from Barnard College in 1954, she went to work as a department store fashion coordinator before she turned to comedy clubs. She had a six-month marriage to Jimmy Sanger.
In recent years, Rivers was a familiar face on TV shopping channel QVC, hawking her line of jewelry, and won the reality show "Celebrity Apprentice" by beating out her bitter adversary, poker champ Annie Duke. In 2010, she was featured in the documentary "Joan Rivers: A Piece of Work."
She never let age, or anything, make her sentimental. Earlier in 2014, she got inked: a half-inch-tall tattoo, "6M," on the inside of her arm representing 6 million Jews killed in the Nazi Holocaust. In 2013, she brashly pledged to work "forever."
"You never relax and say, 'Well, here I am!'" she declared. "You always think, 'Is this gonna be OK?' I have never taken anything for granted."
Based on reporting by the Associated Press.
Follow us on twitter.com/foxnewslatino
Like us at facebook.com/foxnewslatino