Christmas albums to put you in the mood for the holidays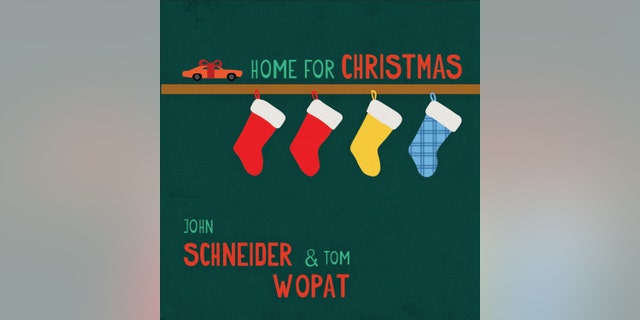 Whether you're prepping a hearty, warm Thanksgiving meal or getting ready to shop until you drop on Black Friday, here's a list of holidays albums reviews set to get you in the right mood.
___
Idina Menzel, "Holiday Wishes" (Warner Bros.)
It's fitting that "Frozen" star Idina Menzel would release her Christmas album in 2014.
Menzel brings the soaring voice that made her famous this year in the Disney hit movie to her Christmas album, "Holiday Wishes." The Tony Award winner puts her own spin on holiday classics like "Silent Night" and "Do You Hear What I Hear?"
But she also includes songs that are surprisingly appropriate for a holiday record, like Joni Mitchell's "River" and "When You Wish Upon a Star" from Disney's "Pinocchio."
One of the highlights is Menzel's duet on "Baby It's Cold Outside" with crooner Michael Buble. The song's lively big-band sound will get couples on the holiday-party dance floor.
Menzel also partners with musician Kenny G on two songs: "White Christmas" and her version of Mariah Carey's "All I Want for Christmas Is You." You can tell Menzel had fun with this pop track adding freestyle lyrics at the end.
The orchestrations are sweeping and powerful, most appropriate for a holiday album. And Menzel only adds to the grandeur with her powerful vocals.
— Caryn Rousseau (twitter.com/CarynRousseau)
___
Various artists, "Christmas at Downton Abbey" (Warner Bros.)
Fortunately, "Christmas at Downton Abbey" isn't what it may at appear to be at first glance.
Anyone looking for some kind of kitschy disaster with Maggie Smith croaking her way through "Silent Night" is going to be disappointed.
Only seven of the 45 tracks on the double disc feature actors from the hit PBS costume drama about an aristocratic British manor house in the 1910s and 1920s. And the two actors who sing — Julian Ovenden and Elizabeth McGovern — actually have experience, know what they're doing and sound quite good.
A third actor from the show — Jim Carter, who portrays stoic head butler Mr. Carson — reads "'Twas the Night Before Christmas" with an orchestral backing, but wisely leaves the singing to others.
The 36 remaining songs are tastefully delivered Christmas carols by the likes of the choir of King's College and classical musicians. The straightforward, conservative approach to the Christmas season is sure to please all the Lord Granthams on your gift list.
— Scott Bauer (twitter.com/SBauerAP)
__
Darius Rucker, "Home for the Holidays" (Universal Nashville)
The Artist Formerly Known as Hootie can now deservedly call himself an award-winning country artist, so it's only natural that he takes that next step — a holiday album.
Stuffed with classic covers like "Winter Wonderland," ''Have Yourself a Merry Little Christmas" and even "You're a Mean One, Mr. Grinch," Darius Rucker's "Home for the Holidays" isn't going to set any sales records, but it's easy enough listening this time of year. There's plenty of slide guitar, strings, horns and a languid pace that would sound great pumped into the speakers at your local mall.
The two originals here — "What God Wants for Christmas" and "Candy Cane Christmas" — aren't standouts, but they don't offend, either. The highlight is Sheryl Crow's duet on "Baby, It's Cold Outside." With its tinkling piano and flirtatious back-and-forth lyrics, I'd love to see the music video.
All told, a pleasing enough addition to the ever-swelling holiday canon, but likely to be forgotten this time next year when another artist does the same thing.
— Robert Merrill (twitter.com/RobMerrill)
___
Heart, "Heart & Friends: Home for the Holidays" (Frontiers)
To their credit, Rock and Roll Hall of Famers Heart don't try to recreate the same six Christmas rock songs everyone else does. Instead, they pick subtle, less popular tracks like "The River" and "Seasons" in this live CD and DVD recorded last year in Seattle.
The first seven songs create a dreamy, peaceful Christmas feeling, as if you're sitting by the fireplace zoning out while looking at the tree. The downside: It's not until the eighth track, Sammy Hagar's "Santa's Going South," that an actual beat is felt. Ann Wilson is pouty, longing and soulful on "Please Come Home for Christmas" (hey, they had to do SOMETHING people knew), and "Remember Christmas" is lushly arranged and orchestrated. Special guests include Shawn Colvin, Pat Monahan of Train and Richard Marx (remember him?).
And then — like that jolt of glee running down the stairs on Christmas morning to see presents under the tree — Nancy Wilson's glorious guitar rips into "Barracuda" and all is right with the world! But Christmas dinner is still to come: Heart's smoking version of "Stairway to Heaven," with a full choir, is worth the price of the disc alone.
— Wayne Parry (twitter.com/WayneParryAC)
___
Renee Fleming, "Christmas in New York" (Decca)
Renee Fleming, whose alluring soprano has made her one of the Metropolitan Opera's top stars for two decades, turns away from her classical roots on her first Christmas album in favor of pop and jazz.
Backed by an illustrious group of artists providing vocal and instrumental support, she offers 13 holiday standards, but with somewhat mixed results. Trumpeter Wynton Marsalis joins her for two familiar numbers, "Winter Wonderland" and "Sleigh Ride," but these are marred by an occasional coyness in her delivery.
Fleming sounds more natural on tracks in which she's paired with other singers, as when Broadway star Kelli O'Hara lends her bright soprano to a sweet version of "Silver Bells." Even better are two numbers ("Have Yourself a Merry Little Christmas" and "Central Park Serenade") in which she's joined by the mellow vocalist Gregory Porter. And best of all is a collaboration with Rufus Wainwright on "In the Dark Midwinter," a gorgeous setting of a Christina Rossetti poem by the English composer Harold Edwin Darke.
— Mike Silverman (twitter.com/mkslvrmn)
__
Sara Evans, "At Christmas" (RCA Nashville)
Sara Evans, with her warm alto and powerful range, proves perfectly suited to a traditional holiday album, as she proves throughout "At Christmas." Smartly pairing up again with producer Mark Bright, who has shown his mastery at shining a light on female vocalists in past work with Evans and Carrie Underwood, the singer toasts the holidays with a nice balance of timeless melodicism and contemporary touches.
The title cut is the album's lone new tune, and the up-tempo Toby Lightman-Shane Stevens co-write rocks through snapshots of a loving family Christmas that goes as planned. It pairs nicely with a well-chosen mix of ballads ("O Holy Night," ''Have Yourself a Merry Little Christmas") and celebratory cuts ("Winter Wonderland").
Evans deftly handles the rock 'n' roll thrust of "Run Rudolph Run," first popularized by Chuck Berry, and shares a mic with daughters Olivia and Audrey to add a family feel to "The Twelve Days of Christmas."
The album's only fault is that three of the 10 tracks — including "Go Tell It on the Mountain" and "O Come All Ye Faithful" — appeared on previous holiday and religious projects, and the three recordings have been sold for years as a holiday EP. Fans that have the older songs may want to hand-select new cuts rather than buy recordings they already have.
— Michael McCall (twitter.com/McCallMC)
___
Anthony Hamilton, "Home for the Holidays" (RCA Records)
Anthony Hamilton has taken home a Grammy and released seven albums in his career. Now, the R&B singer can add one more accomplishment to his resume: a holiday album.
Hamilton brings a soulful cheer to his Christmas album, "Home for the Holidays," which was originally released in late October. Most of the 14-track offerings provide a mellow vibe with guest appearances by Chaka Khan and Gavin DeGraw.
There are renditions of classic holiday melodies like "Little Drummer Boy" and "'Tis the Season." But Hamilton took those often-heard holiday songs and impressively made each record sound like his own with his distinctive Southern drawl.
The veteran singer harmonizes beautifully throughout the album, especially on the piano-driven "Coming Home" and Khan-assisted "The Christmas Song." He meshes well with DeGraw on the title song, and is masterful on the rendition of James Brown's "Santa Claus Go Straight to the Ghetto."
— Jonathan Landrum Jr.(twitter.com/MrLandrum31)
___
LeAnn Rimes, "One Christmas" (Red)
She makes headlines these days for everything except music, but LeAnn Rimes' voice is still a thing of pure beauty and on fine display with "One Christmas," an often tender but short holiday album.
"Silent Night Holy Night" is a lush version of the familiar standard, full of vocal runs and trills that will hit a sweet spot with ears accustomed to pop music. "Blue Christmas" is the real highlight, with just Rimes and a clean-toned electric guitar taking their time over this classic made famous by Elvis Presley.
Rimes speeds things up with "Carol of the Bells," the drama-tinged 1904 song based on a Ukrainian folk chant. Rimes does it right, whirling through the phrasing with wide range and a golden vocal tone that remains her own.
— Ron Harris (twitter.com/Journorati)
___
Various artists, "Motown Christmas" (Motown Records)
In a collaboration effort, the Motown Records and Motown Gospel labels team up to produce the first holiday album from the Motown brand in more than 40 years — and it doesn't disappoint.
True, "Motown Christmas" features a variety of familiar classic songs from "Silent Night" to "Joy to the World." But this 15-track offering, produced by Grammy-winning producer Aaron Lindsey, offers some impressively unique duets and solo performances from Smokey Robinson, Ne-Yo and Toni Braxton.
Some standouts: "Bethlehem" features Kem's silky smooth voice and the soaring vocals of Janice Gaines. India.Arie and Gene Moore make a perfect match on "Mary Did You Know" and "Angels We Have Heard on High" with Chrisette Michele and Kierra Sheard.
There's also a bonus track included, featuring The Temptations' 1970 rendition of "Silent Night."
— Jonathan Landrum Jr. (twitter.com/MrLandrum31)
___
Various artists, "L'Italiana in Algeri" (Opus Arte)
Director Davide Livermore reimagines Rossini's "The Italian Girl in Algiers" as color-splashed 1960s pop culture, with homage to James Bond, "Batman" and "I Dream of Jeannie."
In a 200th-anniversary production from the 2013 Rossini Opera Festival in Pesaro, Italy, the overture is accompanied by video in the style of Monty Python's Terry Gilliam. Bey Mustafa is an oil baron, and Isabella arrives when her four-propeller plane crashes as she responds to Lindoro's SOS.
Mustafa wears chest-baring attire and mirror sunglasses and pops Viagra. Isabella enters in a pink Chanel-like outfit. Mustafa's harem dances in white go-go boots. While lacking subtlety, the staging is sparkling fun.
Bass-baritone Alex Esposito is a vibrant Mustafa. Mezzo-soprano Anna Goryachova (Isabella) has a flipped hairstyle, breezy naivety and supple coloratura. Yijie Shi's tenor is light for Lindoro.
Nicolas Bovey's set and lighting design and Gianluca Falaschi's costumes bring Livermore's frantic concept to life. Jose Ramon Encinar conducted the orchestra and chorus of the Teatro Comunale di Bologna.
— Ronald Blum (twitter.com/ronaldblum)
___
Pentatonix, "That's Christmas to Me" (RCA Records)
The Pentatonix's youthful a cappella take on Christmas standards comes off as merely meh-cappella, lacking a certain inventiveness that an all-vocals approach is ripe for and that group should be capable of.
Songs like "It's the Most Wonderful Time of the Year" and ever-present "Let It Go" from Disney's "Frozen" are pedestrian in approach. The basic blend of baritone and mezzo-soprano is oddly lacking in punch for the latter song, which is hugely popular and ripe for the picking.
Sure, if you're into a cappella this is must-listen territory for the holidays and the album's title track is done very well. But "That's Christmas to Me" is unlikely to garner the Texas-based quintet many new followers. It's curiously underwhelming.
— Ron Harris (twitter.com/Journorati)
___
Various artists, "Die Entfuehrung aus dem Serail" (Arthaus Musik)
Adrian Marthaler directed a live telecast of Mozart's "The Abduction From the Seraglio" during the 2013 Salzburg Festival from 11 spaces in and around Salzburg Airport's Hangar-7, a museum displaying vintage airplanes, helicopters and Formula 1 racing cars.
Action was forwarded from an 18th-century palace to the present. Pasha Selim became a fashion mogul, and models were used as supernumeraries who walked an illuminated runway. Belmonte arrives in a black taxi, and seamstresses, hair and makeup stylists and photographers became part of the action. Osmin sings while working out in a tank top on a weight machine.
Lena Hoschek's silk and taffeta fashions could be worn at benefit galas. Video director Felix Breisach managed 18 cameras to capture the action.
Desiree Rancatore sang Kostanze (following Diana Damrau's withdrawal) and was joined by Rebecca Nelsen (Blonde), Javier Camarena (Belmonte), Kurt Rydl (Osmin), Tobias Moretti (Bassa Selim) and Thomas Ebenstein (Pedrillo). Hans Graf conducted the Camerata Salzburg and Salzburger Bachchor.
— Ronald Blum (twitter.com/ronaldblum)
___
John Schneider & Tom Wopat, "Home for Christmas" (D13 Entertainment)
This is the first-ever full recording by John Schneider and Tom Wopat since they began burning rubber in the General Lee 35 years ago as cousins Bo and Luke Duke. The two friends display the same relaxed camaraderie they did on "The Dukes of Hazzard," but this holiday album is more pop-jazz than country.
Schneider and Wopat are both accomplished singers and their voices blend smoothly. They add some original touches to the more familiar Christmas fare: "Santa Claus Is Coming to Town" opens with the rarely heard introductory verse, "Sleigh Ride" features a crisp brassy big band arrangement and on "I'll Be Home for Christmas," Wopat's warm baritone is enhanced by the subdued backdrop of piano, bass and strings.
They also include some hip lesser-known holiday songs such as "The Secret of Christmas," a tender ballad by Sammy Cahn and Jimmy Van Heusen, and the cynical yet witty "Blue Xmas," an anti-Christmas commercialism ditty by Bob Dorough.
Schneider and Wopat show their country roots on Robin and Linda Williams' "On a Quiet Christmas Morn" with some Americana fiddling and guitar strumming. And they do slip in a reference to "driving the General Lee" as they humorously rework Frank Loesser's lyrics on "Johnny, It's Cold Outside."