Christina El Moussa opens up about 'challenging' few years, landing new HGTV series 'Christina on the Coast'
PASADENA – Christina Anstead is gearing up for the start of her new HGTV series "Christina on the Coast." However, the "Flip or Flop" star admits that the journey to landing her own spinoff was not without its challenges.
Speaking to reporters during the HGTV portion of the Television Critics Association Winter Press Tour in Los Angeles on Tuesday, Anstead – whose bitter divorce to "Flip or Flop" co-star Tarek El Moussa made headlines in 2018 – kicked off the panel by opening up about the difficult time in her personal life.
"As you guys know, it's been a challenging couple of years for me," Anstead, 35, began. "I'm currently filming Season 8 of 'Flip or Flop,' which is amazing that it's been on for eight seasons, but when the divorce was going on and everything was happening, I didn't know where my career was going to be."
7 THINGS YOU DIDN'T KNOW ABOUT CHRISTINA EL MOUSSA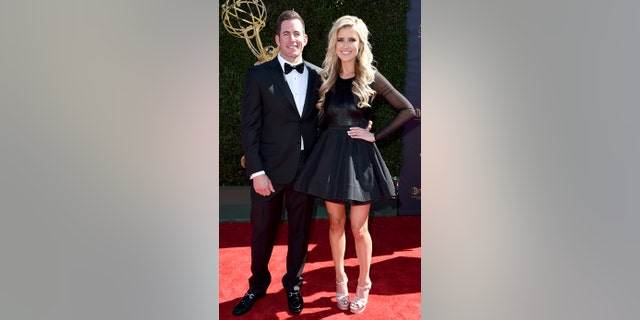 The reality star went on to recall a conversation with HGTV president, Allison Page, in which she opened up about her desire to branch out.
"I remember just saying, 'I'm really excited to do something on my own and I'm known for design, so I think it would be awesome to be able to do a show where I just help people on the design element,'" she explained, noting that "what's really great about the new show is that it also focuses on my own personal life, so you follow me getting engaged, getting married, it's just really exciting."
Back in December, Christina tied the knot with TV presenter Ant Anstead after dating for a year. The couple married in a "winter wonderland" wedding in Newport Beach, Calif., with 70 of their closest family members and friends in attendance, People magazine reported at the time.
'FLIP OR FLOP' STAR CHRISTINA EL MOUSSA MARRIES ANT ANTSTEAD IN SECRET WEDDING
TAREK EL MOUSSA IS 'HAPPY' FOR EX-WIFE CHRISTINA
"It was just perfect for us," the HGTV starlet gushed to the outlet. "Everything we wanted."
Two years before Christina's save-the-date to Anstead, she and now ex-husband Tarek announced their separation following a June 2016 heated fight that led to police being called to their Orange County, Calif., home.
The former couple, who share 8-year-old daughter Taylor and 3-year-old son Brayden, went on to file for divorce in September 2017, and their divorce was finalized in January 2018.
"Christina on the Coast" premieres on May 23 at 9 p.m. ET on HGTV.