Chris Brown's lawyer: D.A.'s claim client faked community service 'horsesh*t'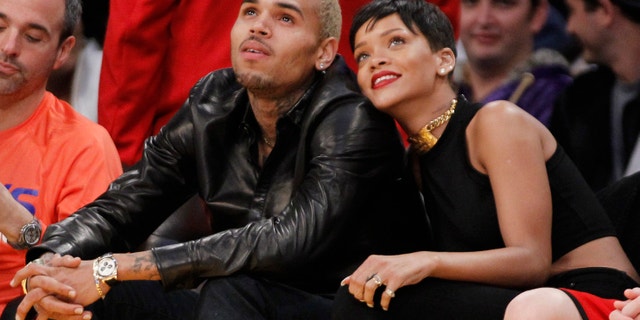 LOS ANGELES – Chris Brown's attorney Mark Geragos is not mincing words when it comes to the L.A. District Attorney's motion against his client, Chris Brown.
On Tuesday, Deputy District Attorney Mary A. Murray filed a detailed motion in the California Superior Court with allegations that Brown's completion of community service documents – as submitted by the Chief of Police in Richmond, VA. – were fabricated, requesting that the court reject the labor based on an investigation revealing "significant discrepancies indicating at best sloppy documentation and at worst fraudulent reporting."
"The D.A's office has apparently lost their minds and apparently they can't read their own reports which clearly state he did the work," Geragos told FOX411's Pop Tarts column on Tuesday afternoon. "They are making scurrilous, libelous and defamatory claims against my client. They should be embarrassed."
In August 2009, Brown was placed on formal probation after pleading guilty to one felony count of assault, stemming from his attack on singer/girlfriend Rihanna. As part of the sentence was issued 180 days of community service. He was granted permission to complete such duties in his home state of Virginia, but the documents indicate that "although Virginia Probation accepted supervision of Defendant, no one from that Department ever approved, scheduled, supervised, monitored or verified" any of the supposed labor to the court.
According to the motion, the accounting of hours are "inconsistent, unsubstantiated and unverifiable." Probation Officer Eric Covington confirmed the lack of supervision, stating that "this type of community labor arrangement was extremely unusual" and unprecedented in his department. The documents also noted that as of December 31st, the Police Department had not billed for "supervision" costs incurred, and that the only information supplied to purport hours expended by "protection" personnel were on dates that no community labor was reported to have been performed by Brown. Rather, "Richmond Police personnel provided a security detail for a concert performed" by the controversial entertainer.
Suspicion has also been sparked over Brown's mom's involvement in his community service.
The motion states that the local detective was advised that the performer would complete labor at the Tappahannock Children's Center, where his mom Joyce Hawkins had previously been the director, and still had her own keys to the facility. The motion says she was "responsible for orchestrating this work outside normal operating hours." The current director allegedly told L.A. investigators that she "assumed the Defendant (Brown) completed the work because she smelled cleaning products or fresh paint," and that she canceled the routinely scheduled floor cleaner, but continued to pay him, even though he did not perform the work.
But when contacted by investigators, the commercial floor cleaner disclosed that he had "never been contacted" by the reigning director, and that he never "accepted payment for work he did not perform."
But Geragos insists that Brown did complete the designated work. And according to California Criminal Defense Attorney David Wohl, who is not involved in the case, "the L.A. Court has no jurisdiction over his mom," thus she can't be implicated in the situation, at least not by them.
Regarding the "sloppy documentation," L.A. investigators perhaps mean documented dates that seemingly don't add up.
For example, the documents point out that on October 23, 2010 Brown was reported to be doing eight hours of community labor under the supervision of the Richmond Police Department. However, Brown was in Washington D.C. – some 120 miles away – hosting the Eunice Kennedy Shriver Challenge.
Another example listed is December 12, 2011, whereby Brown was supposed to be trash collecting for eight hours in Richmond, yet information from Homeland Security showed that Brown's passport was cleared at an airport just outside of Washington D.C. that morning after a trip from Dubai, rendering it "unreasonable" that he would have been rushed through customs, and in peak morning traffic driven 120 miles to his home residence – following a 13-hour flight – in just over two hours, for eight hours straight of work.
And on March 12, 2012 the police department documented that Brown was "picking up trash" for "four hours" from 10am to 6pm – which actually equals eight hours. However, the motion claims that Brown was, as verified by private airline service Excelaire Service Inc., en route from Richmond to Cancun that very day and boarded the jet prior to 4pm hence making it "physically impossible" for him to be trash collecting at the provided time.
Geragos however, says that the documents unequivocally state that he cleared customs and went straight to do his service on the December 12 date, and the other date conflicts are likely administrative errors.
"It is all so stupid. They (the Los Angeles D.A's office) have indicated they will do anything to stop him from completing his court orders. The reason I say that they have lost their minds is that if a defense lawyer used these arguments that would be accused of being paranoid and schizophrenic," he continued. "To believe them is to believe that six separate officers are in a conspiracy theory to help Chris Brown. They need to read their own interviews; they all saw him doing the work."
Brown's lawyer went on to say that he would "encourage" the Richmond Police Department to take legal action against the District Attorney over the allegations.
"The whole thing is horsesh*t. It's really beneath their dignity," he said.
But the L.A. District Attorney went on to list several other reasons why Brown's probation ought to be revoked.
Just last week he was allegedly involved in an altercation with performer Frank Ocean. The crooner told police that he was "punched on the side of his face" by Brown after refusing to shake hands with him outside a West Hollywood recording studio, and that two members of Brown's posse joined him in the abuse, culminating in Brown threatening to shoot him. However, investigators this week announced that Los Angeles County sheriff's officials said this week that they plan to close the investigation because Ocean has said publicly he did not want to press charges.
On another occasion in February last year, Brown was reported to have stolen a female fan's phone after she attempted to photograph him. She allegedly followed his limousine to pursuit of her phone, and was told by a front-seat passenger that it was thrown from the vehicle. A search for the device proved fruitless, and the phone was located three days later "on a tour bus belonging to one of the entertainers" accompanying Brown on that date.
The filed papers additionally point out that a Probation Progress Report describes several violations – including a failure to obtain a travel permit, and the use of marijuana, which he claimed was authorized for medical purposes by a California acupuncturist. But the California Business and Professions Code prohibits an acupuncturist from recommending or prescribing the drug for such a purpose.
"If it turns out that Brown and Geragos made that request (to complete service in home town) with the intent to perpetrate a fraud it will be proven a foolhardy mistake. If it is true Brown collaborated with local authorities to concoct a phony record of community service, his probation in L.A. County would likely be violated and he would almost certainly face some jail time," Wohl surmised.
But Geragos assured us that he is not concerned.
"I'm going to address it all in court tomorrow (Wednesday) and show how foolish they are," he said.