Chef Mark Bailey's Valentine's Day Recipes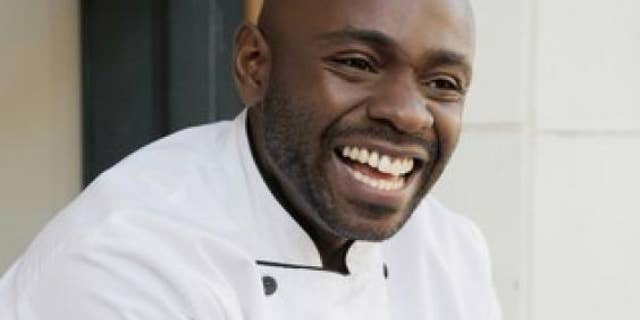 Hot Chocolate Love Affair
1.5 oz Godiva Dark Chocolate Liqueur
1 oz Aged Rum
.5 oz Simple Syrup
Hot Water
Whipped Cream
Combine liqueur, rum and simple syrup in a mug. Top with hot water and homemade whipped cream.
Raspberry-Banana Morning Parfaits
2 cups Shredded Wheat
2 cups fresh raspberries
4 containers (6 oz. each) banana yogurt
1/2 cup sliced almonds
Toss cereal with raspberries in medium bowl. Layer cereal mixture and yogurt in a wine goblet. Sprinkle with almonds.

Heart Shaped Hazelnut Pancakes with Red Velvet Syrup
1 cup finely chopped hazelnuts
1 cup flour
1 egg, beaten
2 tbsp sugar
2 teaspoons baking powder
1 cup Chocolate Milk
t tsp salt
2 tbsp vegetable oil
In a large bowl combine flour, baking powder, salt and sugar. Mix well. In separate bowl combine egg, milk and oil. Mix well. Add milk mixture to dry ingredients and mix into batter. Fold in 3/4 cups of hazelnuts. Mix well.
Heat heart-shaped skillet greased with cooking spray over medium heat. Using a ladle, spoon batter on skillet to form pancake. When cake bubbles (approx. 2 minutes) flip and cook other side until brown. Repeat with remaining batter.
Top cakes with additional hazelnuts and serve with warm red velvet syrup.
Red Velvet Syrup
1 cup water
1 cup sugar
3/4 cup cocoa beans
Red food coloring
Combine sugar and water in a medium sauce pan. Bring to boil while stirring. When sugar dissolves stir in cocoa beans. Reduce heat to medium and simmer for 10-12 minutes. Strain beans from syrupy liquid. Discard beans. Stir in 2-3 drops of food coloring to syrup until well blended. Serve warm.

Chocolate Covered Strawberries
1 pound fresh strawberries
2 cups dark chocolate chips
Rinse and dry strawberries. Add chocolate chips to medium glass bowl.
Fill a medium saucepan with water to 1-2 inches. Bring to boil over medium-high heat. Place glass bowl over saucepan. Allow chocolate chips to melt, stirring occasionally. When chocolate has melts, dip a strawberry into chocolate and rest on baking pan lined with baking sheet. Repeat with remaining strawberries. Let chocolate set.
Serve immediately or wrap with plastic wrap and refrigerate.