Chad Johnson was Cheating on Lozada with Boston Woman for Months, Report Says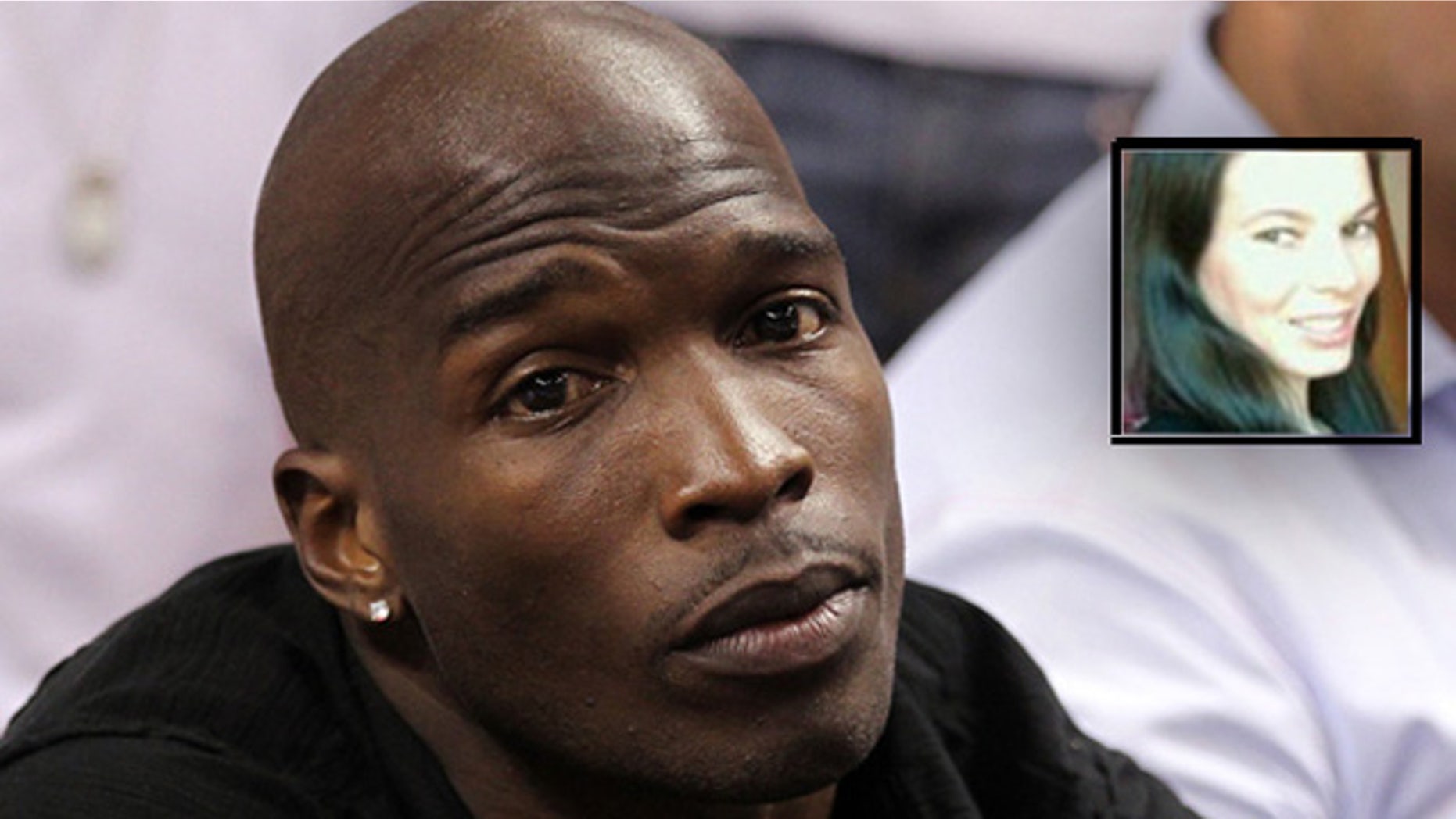 Perhaps Evelyn Lozada's woman's intuition was right on.
Just hours after the reality star allegedly filed for divorce from her NFL star husband Chad "Ochocinco" Johnson, new details emerged about another woman who claims she had an affair with Johnson while Lozada was busy planning for her wedding. Johnson allegedly head-butted his wife during a heated argument over the weekend after Lozada confronted him after finding a receipt for a box of condoms in their vehicle.
According to gossip site RadarOnline.com, Johnson allegedly had a secret romp with a Boston woman named Beverly Shiner, who says she dated the football player from January up until May of this year, just as his fiancée Lozada was well underway in planning her wedding to Johnson.
Shiner says that Johnson had no trace of remorse for his cheating ways and made no effort to hide his affair even after he had tied the knot with Lozada.
The alleged mistress tells the publication that the tryst began when Johnson reached out to her on Twitter and wrote her a direct message wanting to wine and dine her.
"I Googled him before we met and saw he was engaged," Shiner told RadarOnline.com. "At the time, there were reports that she had broken it off because she thought he was cheating, so I assumed they had split up."
Shiner claims that she realized Johnson and Lozada were still an item once she visited his Massachusetts home and found women's toiletries in the bathroom.
"While I was there, he called Evelyn and asked if she could order a pizza to be delivered to him, and even had her pay for it on her credit card," she continued. "I thought it was odd and wondered if she was really his fiancée or just a secretary."
Shiner says that Johnson even sent her a text while he was with Lozada. She claims the rendezvous lasted three months.
"When he was at the Super Bowl (on February 5) in Indianapolis, he was texting me and saying he missed me," she admitted, even though Lozada and his children were with Johnson that same evening.
Shiner says that even after Johnson moved back to Miami to play with the Dolphins when he was let go by the New England Patriots, he continued texting her and telling her how much he desired to be with her.
"We would get together when he was in back up in Boston," Shiner said. She added that she would closely follow Lozada on Twitter to find out when she was out of town and be able to shack up with Johnson.
"She eventually blocked me after she read a reply I tweeted to ("Basketball Wives" co-star) Kenya Bell after they had had fight over kitten heels. I said Evelyn was trashy and I couldn't believe 'he was marrying that.'"
Shiner, 34, says the affair came to a halt in May after she and Johnson spent a lustful night together. Soon after, he cut her off and stopped answer her texts and calls.
"He had asked me to come over so I drove there and knocked on his door and he didn't answer, even though I could hear his X-Box playing," said Shiner." Then I texted him the next day and he didn't apologize."
"I got upset and told him, 'You are not the guy I thought you were,'" she told him to which Johnson allegedly replied "you're overstepping your boundaries a little bit."
It didn't take long for Shiner to cut all contact with Johnson after she got tired of his lack of "respect and common courtesy."
"He just stopped talking to me because he didn't like the comments I made," she added.
"It wasn't just a one night thing, he always said he wanted to move in with me, and said if he had I'd be pregnant by then. He kept asking if I wanted to have more kids."
"Once, when I was at his house, I asked what would happen if Evelyn walked in right now, and he said she wouldn't care," Shiner told the gossip site.
"He said, 'I'm not doing anything different than what every other man is doing,' he thinks it is fine to cheat. I feel he was completely disrespectful and he led me on."
Johnson was dropped by the Miami Dolphins and their show, "Ev and Ocho," was cancelled by VH1 after their spat. In the police report, the officer on the case noted that Lozada had a three-inch gash on her forehead. Lozada claims Johnson head-butted her, but Johnson claims it's the other way around – she allegedly head-butted him.
Johnson was arrested Saturday evening and released early Sunday morning on a $2,500 bond.
The reality star and football player got hitched in Miami last month and tied the knot in front of friends, family members and, as usual, reality show cameras that documented their every move for their VH1 show, which got canceled on Monday due to the allegations of Johnson's domestic abuse toward Lozada.
Lozada and Johnson had been engaged since 2010.