Celebrity midterm meltdowns: Stars take sides ahead of election night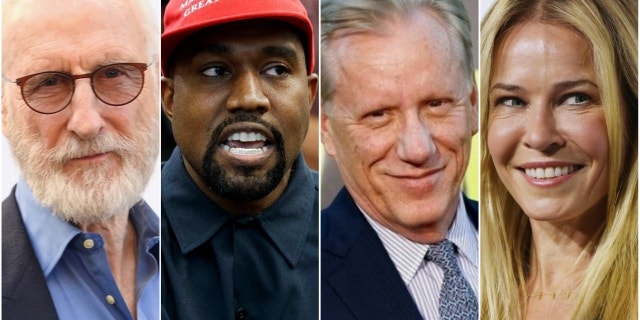 Celebrities from both sides of the aisle have spoken out about the midterm elections, stressing their importance — especially as both sides compete to control the House of Representatives. Democrats need to get at least 23 representatives elected to achieve a majority in the 435-seat chamber.
Republican and Democratic stars are fighting for their parties as Americans head to the polls. From claiming there would be "blood in the streets" if Republicans win the midterms to re-posting a hoax news story that allegedly displays "absolute liberal insanity," celebrities are using their platforms to rally voters — both red and blue alike.
As celebrities hit the campaign trail (both physically and virtually) on Tuesday, here's a look back at some political statements they've made.
"Blood in the streets"
At the fourth annual Carney Awards, character actor James Cromwell took the opportunity to voice his disgust with the current political climate by making a bold — and graphic — remark: There will be "blood in the streets" if Republicans maintain control after the midterm election, he said.
ACTOR JAMES CROMWELL WARNS OF 'BLOOD IN THE STREETS' IF DEMOCRATS DON'T WIN ELECTION
"This is nascent fascism. We always had a turnkey, totalitarian state — all we needed was an excuse, and all the institutions were in place to turn this into pure fascism," Cromwell told Variety during a red carpet interview on Oct. 28. "If we don't stop [President Trump] now, then we will have a revolution for real. Then there will be blood in the streets."
The comment sparked a Twitter firestorm and eventually prompted Cromwell to clarify his stance.
"Not promoting violence, voting against it. You will never see me raising a fist. I'm a pacifist. My words were taken out of context. I'm worried about the blood of the dissent, protesters, more children shot at school, people shot while praying, for who they love and who they are," Cromwell wrote in a tweet, claiming a quote used by Variety was taken "out of context."
"It's ok to come forward"
At the top of her Twitter profile, singer Kaya Jones pinned a tweet that spreads a political message to celebrities like herself.
"I want to show other celebrities who voted for @realDonaldTrump it's ok to come forward. Better yet let's show the world how many Americans stand with him. Bullies shouldn't be allowed for almost a year and a half to bully us without cause. If you voted for him just Like or RT," Jones, a former member of the Pussycat Dolls, wrote on April 24. The tweet has been shared nearly 20,000 times since then.
And the singer-actress hasn't stopped spreading pro-red statements. On Monday, the star encouraged New Yorkers to vote Republican after slamming Maxine Waters, D-Calif.
"Maxine Waters will be in charge of Financial Services Committee if the Democrats win! Get off your butt America and #VoteRed this cannot happen and would cripple this great nation," she tweeted.
"Thinking" about moving to Canada
Barbra Streisand told The New York Times she's considering moving to Canada if the Democrats don't win a majority in the House of Representatives in the November elections.
"I've been thinking about, do I want to move to Canada? I don't know. I'm just so saddened by this thing happening to our country," she said.
BARBRA STREISAND'S BIZARRE ANTI-TRUMP COMMENTS, FROM WEIGHT GAIN CLAIM TO THREATENING CANADA MOVE
Before the 2016 election, Streisand pledged to leave the U.S. if Trump was elected.
"He has no facts. I don't know, I can't believe it. I'm either coming to your country [Australia], if you'll let me in, or Canada," she said, according to The Hollywood Reporter.
"Absolute liberal insanity"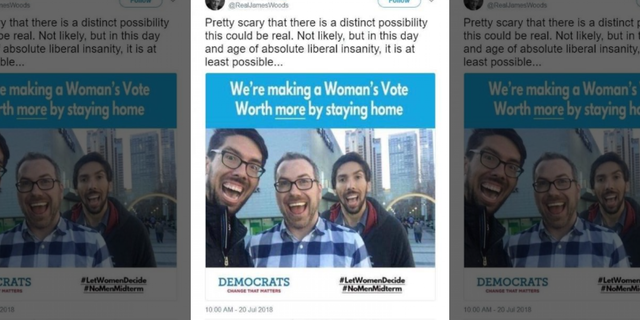 Actor James Woods was locked out of his Twitter account in September after the company found a 2-month-old tweet he posted was in violation of the company's rules.
The July 20 tweet included a hoax meme that claimed to be from Democrats, encouraging men not to vote in the midterm elections.
JAMES WOODS REFUSES TO DELETE MEME THAT HE SAYS GOT HIM LOCKED OUT OF TWITTER
Woods said he received an email from Twitter saying the tweet "has the potential to be misleading in a way that could impact an election."
"The irony is, Twitter accused me of affecting the political process, when in fact, their banning of me is the truly egregious interference," Woods told The Associated Press at the time. "Because now, having your voice smothered is much more disturbing than having your vocal chords slit. If you want to kill my free speech, man up and slit my throat with a knife, don't smother me with a pillow."
"Red hat to hell"
Jim Carrey has provoked outrage with his controversial — politically-charged — paintings.
He has been showcasing his unusual, occasionally graphic, art on Twitter several times a week. More recently, Carrey posted a graphic cartoon mocking members of the GOP.
JIM CARREY 'SUBMITS' SEMI-NUDE TRUMP PAINTING TO NATIONAL PORTRAIT GALLERY, SPARKS REACTIONS
"The GOP are now completely invested in Trump's economy of LIES. They say they're gonna give you HEALTHCARE while working to destroy it. They make up lies about refugees while KIDNAPPING INNOCENT CHILDREN! Vote Democrat. Help save the future. DON'T FOLLOW THE RED HAT TO HELL," Carrey tweeted on Oct. 30.
Days later, he again encouraged Americans to vote Democrat, particularly endorsing Texas Sen. Ted Cruz's opponent Beto O'Rourke.
"Vote like there's no tomorrow. Let's make this Tuesday like the end of every great vampire movie. Pull back the curtains and let the sunshine turn all those bloodsuckers to dust," Carrey wrote, in part.
MAGA's "masculine energy"
Before publicly declaring he was going to take a hiatus from politics, Kanye West, an outspoken fan of President Trump, made plenty of headlines.
During an October appearance on "TMZ Live," the rapper explained why he proudly wears a Make America Great Again hat.
KANYE WEST SAYS THAT 'NO MATTER WHO THEY ARE, AS AN AMERICAN, I SUPPORT THE PRESIDENT'
"This represents: y'all can't bully me... you can't tell me what to do because that's what people used to do, they would snatch your hat off... and ain't nobody ripping my hat off again... It also represents to me masculine energy..."
The rapper said he has the "right to wear" whatever he desires, noting that he supports the president.
"Republican Party = white male party"
Outspoken comedian Chelsea Handler has made headlines for inflammatory tweets and controversial political statements in recent years.
From questioning Republican South Carolina Sen. Lindsey Graham's sexuality to calling White House Press Secretary a "trollop," Handler has been firing shots left and right at Republicans. So it's no surprise Handler has continued to voice her disdain for Republicans ahead of the midterms.
"[Republicans] don't care about women and they don't care about the future. They care about the past where all white men are in power. Rape is fine. Keep minorities and women down. All white men, oh, and Ben Carson," Handler tweeted in late September.
The 43-year-old even stripped down in an Instagram post Sunday, encouraging her fans to vote like their life "depends on it" as she continues to parade around topless — wearing only black underwear, according to The Hollywood Reporter.
Setting "the tone of hate, rage"
Actress Kristy Swanson has been very vocal about her Republican support in recent days, particularly pointing blame at Democrats for creating what she called "the resistance movement."
The 1992 "Buffy the Vampire Slayer" star encouraged Democrats to "try love" on Monday, a day before the election.
"Dems: When you boycotted Trumps inauguration, had an "anti trump" woman's march the next day, refused to stand at the state of the union, it was then, that you alone set the tone of hate, rage & the resistance movement. It's easy to see who started the angry leftist mob," Swanson tweeted.
On Tuesday afternoon, Swanson shared a selfie on Twitter confirming that she voted for a "#RedWave."
Fox News' Tyler McCarthy and Bradford Betz contributed to this report.