Barbra Streisand's bizarre anti-Trump comments, from weight gain claim to threatening Canada move
Barbra Streisand is not a Trump supporter — and she's made that clear through the years by publicly voicing her disgust with the current political climate. From threatening to move to Canada or Australia if elections don't go her way to saying President Trump's comments are "making her fat," the singer has made some pretty bold claims along the way.
In a long-ranging interview with The New York Times, she addressed a variety of issues connected to her upcoming album, "Walls," her disdain for the president and various thoughts on politics in general.
She even said the first track on the album, "Don't Lie to Me," is a contemporary track that expresses her "anger" and "frustration" with the current administration.
"I can only be true to me as an artist, and if people like it that's great, and if they don't, they don't have to buy it or listen to it. But me in real life is more important than me as the artist. As a citizen, that's the role," Streisand told the Times on Oct. 30.
When asked if she could think of anything "good" Trump has done since he took office, Streisand drew a blank.
"I mean, this is a man who's kind of, not kind of — he's mean. I worry about the children. I worry about what is the image he's projecting to them," she said after what the newspaper described as a "very long pause."
As Streisand continues her crusade against Trump and the GOP ahead of the midterm elections, take a look back at some of the singer's most bizarre political comments and protests.
"Thinking" about moving to Canada if GOP wins the House
Once again, the singer claims she'd mull a move if Election Day doesn't go her way.
Streisand told The New York Times she's considering moving to Canada if the Democrats don't win a majority in the House of Representatives in the November elections.
"I've been thinking about, do I want to move to Canada? I don't know. I'm just so saddened by this thing happening to our country," she said.
BARBRA STREISAND 'THINKING' ABOUT MOVING TO CANADA IF GOP WINS THE HOUSE
Before the 2016 election, Streisand pledged to leave the U.S. if Trump was elected.
"He has no facts. I don't know, I can't believe it. I'm either coming to your country [Australia], if you'll let me in, or Canada," she said, according to The Hollywood Reporter.
Trump's 'making me gain weight'
At least twice now, Streisand has blamed alleged "weight gain" on Trump.
In a March 2017 tweet, the singer-actress said Trump was making her "gain weight."
"I start the day with liquids, but after the morning news, I eat pancakes smothered in maple syrup!" she continued.
More recently, in October, Streisand told The New York Times politics was still "making [her] fat."
"I hear what he said now, and I have to go eat pancakes now, and pancakes are very fattening. We make them with healthy flour, though — almond flour, coconut flour," she quipped.
"That's what a president is supposed to look like?"
Less than two months before the presidential election in 2016, Streisand – an avid Hillary Clinton supporter – penned an Op-Ed for Huffington Post called "Facts Matter." In the article, Streisand slammed what she called Trump's "mostly false" statements and commented on his looks.
"And Trump says Hillary doesn't look presidential? What does that mean... coming from a guy who looks like a raccoon in a tanning bed... with a flying squirrel on his head? That's what a president is supposed to look like? A wrestler who dies his hair blonde?" she wrote in the Sept. 22 article, begging voters not to "fall into the hands of a narcissist."
"Send in the Clowns"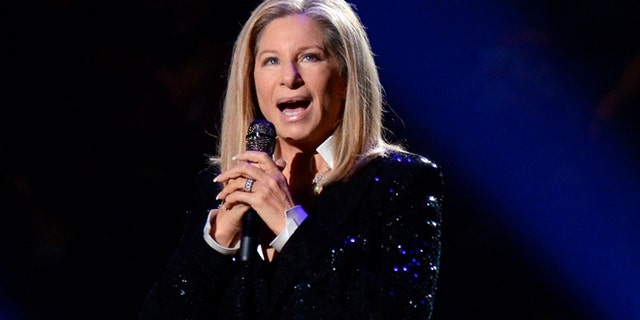 During a September 2016 LGBTQ fundraiser for Clinton in New York City, Streisand volunteered to perform her own spin on Stephen Sondheim's "Send in the Clowns."
In her rendition, Streisand replaced lyrics to mock the then-Republican hopeful.
"Is he that rich, maybe he's poor, 'til he reveals his returns, who can be sure?" Streisand sang at the Sept. 9, 2016 event. "Something's amiss, I don't approve if he were running the free world, where would we move?"
"And if, by chance, he gets to heaven, even up there, he'll declare Chapter 11. This sad, vulgar clown. You're fired, you clown," she continued.
Mind reader 'can't read' Trump
Streisand kicked off her first concert in three years, back in August 2016, with some anti-Trump jokes.
After mind reader Lior Suchard took the stage with the legendary singer, Streisand took the opportunity to mock Trump.
"The only person's mind he can't read is Donald Trump's because he doesn't have one," she commented, according to Variety.
Streisand then continued to take aim at what she dubbed the "doozy" of an election.
"What[ever] the color of your skin or where you were born – Cuba, China, Malaysia, Madagascar – our genetic makeup is 99.9 percent identical to every person on the face of the earth," she told the audience. "The other .1 percent is Donald Trump."
Fox News' Mariah Haas contributed to this report.