Carrie Underwood's 'American Idol' Style, Anne Hathaway's Bouncing Baby Boy, and Much, Much More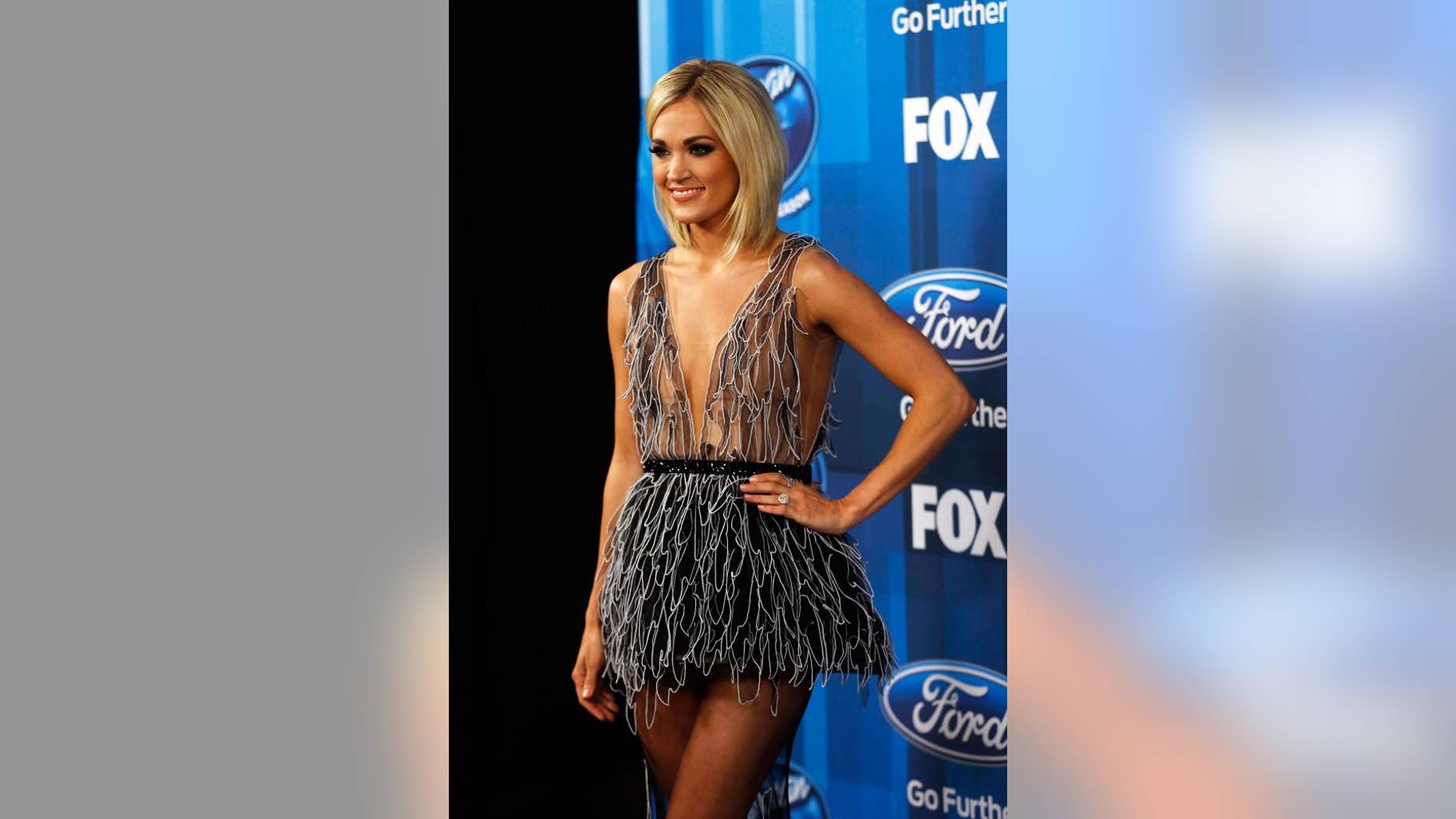 Here's what all the fuss is about:
• Carrie Underwood arrived for Thursday's series finale of "American Idol" wearing a see-through Yanina Couture gown that featured sheer paneling up top and down her legs (above). It also boasted some kind of fake-feather construction that we're not sure how to describe, but hopefully that won't take away from your experience.
• Man, we'd like to be just like Underwood! But while we can't have her charisma, or her voice, or her impeccable wardrobe, or her legs, or even her we've at least mastered the art of getting her smoky eyes. Watch the video below for a tutorial, then
• Now back to "Idol": Mississippi native Trent Harmon became the latest — and final — winner of "American Idol" on Thursday night's series finale. So from now on, anyone who wants to achieve stardom will just have to do it the old-fashioned way: by humiliating themselves in a viral video.
• Disney and Lucasfilm have debuted the first trailer for "Rogue One" (below), which will serve as a spin-off/prequel to the original "Star Wars" trilogy. In fact, they've even subtitled the film "A Star Wars Story," just in case you couldn't tell it was a "Star Wars" story from all the faceless stormtroopers that get blown to bits in this thing:
• As first reported by E! News, Oscar-winning actress Anne Hathaway and husband Adam Shulman recently welcomed their first child, a baby boy named Jonathan Rosebanks Shulman. Unfortunately, this means that your dream of one day naming a child "Rosebanks" will seem lame by comparison. Thanks a lot, Hathaway!
• Earlier this week, Jessica Biel celebrated her one-millionth Instagram follower by smashing her face into a large cake (below). In related news, we celebrated our 300th Instagram follower by smashing our face into a wall! (Check us out sometime, OK?)
• Charlize Theron has reportedly signed on for a role in the next "Fast and Furious" movie, where she'll likely play some sort of villain. It's still too early to tell how prominently she'll be featured, so here's hoping she's well-trained in navigating a Honda Civic through a bustling Tokyo neighborhood, just in case.
• And finally, CMT has debuted a trailer for their new series "Still the King," which stars Billy Ray Cyrus as washed-up country star who pretends to be a preacher in order to win over a daughter he never knew he had (below). Somehow, though, the show's writers stopped themselves before further convoluting the plot with a talking dog: