Carrie Underwood, Post Malone among American Music Awards performers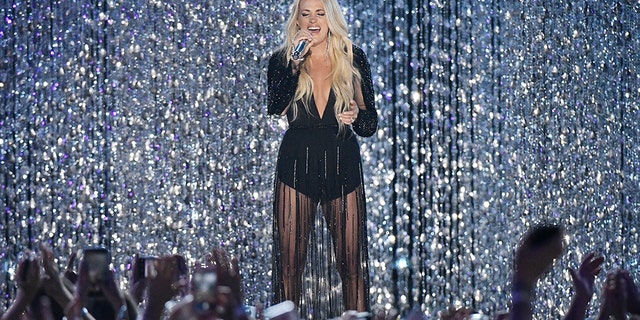 Carrie Underwood is just one of the stars fans can expect during the upcoming 2018 American Music Awards.
The country singer – along with the rock band Imagine Dragons, rapper Post Malone and singer Ty Dolla $ign – will perform during the Oct. 9 show, dick clark productions said in a Wednesday news release.
Underwood, 35, is slated to perform a song off her latest album, "Cry Pretty."
Fans can also expect to see Imagine Dragons' "Natural" and Post Malone and Ty Dolla $ign's team up on "Psycho."
That's not the only planned song for Malone, though.
DRAKE, CARDI B LEAD THE 2018 AMERICAN MUSIC AWARDS WITH 8 NODS EACH
"Additionally, Post Malone will treat fans to a solo performance of a track off the same album," dick clark productions said.
With the exception of Ty Dolla $ign, the musicians are also among this year's crop of nominees.
Both Imagine Dragons and Malone are up for Artist of the Year.
CARRIE UNDERWOOD BELIEVED PEOPLE WOULD BELIEVE SHE 'ELECTIVELY' CHANGED HER FACE AFTER FREAK ACCIDENT
The rock group could also win Favorite Duo or Group, Pop/Rock, and Favorite Artist - Alternative Rock.
Malone, meanwhile, has five other nods: Collaboration of the Year, Favorite Male Artist, Pop/Rock, Favorite Artist, Rap/Hip-Hop, Favorite Album, Rap/Hip-Hop and Favorite Song, Rap/Hip-Hop.
Underwood could also snag a top prize: Favorite Female Artist - Country.
You can see the performanecs – and eventual winners – on Oct. 9 at 8 p.m. ET on ABC.