Carrie Underwood on having another baby boy: 'It was just great news'
Carrie Underwood couldn't be more thrilled to be expecting another baby boy.
Speaking to reporters backstage at the CMA Awards on Wednesday, the star, who is already mom to 3-year-old son Isaiah, gushed about her and husband Mike Fisher's impending bundle of joy.
"We were just so excited. It took us a while to get here, and we were just feeling so blessed," Underwood said while holding back tears, according to Taste of Country.
"And then to find out Isaiah is going to have a baby brother, it was just great news."
Back in September, the "Cry Pretty" singer revealed that she had suffered three miscarriages throughout 2017 and early 2018.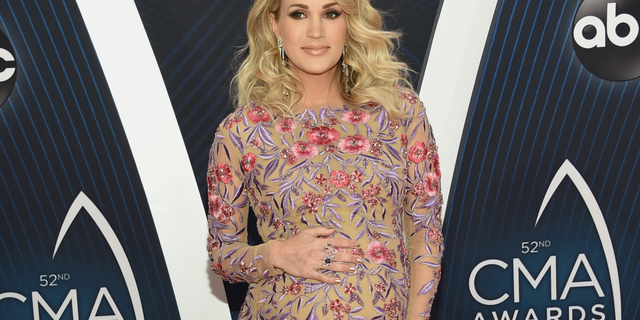 CARRIE UNDERWOOD, MIKE FISHER EXPECTING BABY NO. 2 
"I kind of planned that 2017 was, you know, going to be the year that I work on new music, and I have a baby," Underwood told CBS Sunday Morning's Tracy Smith. "We got pregnant early 2017, and it didn't work out.
"Got pregnant again, early 2018. Didn't work out," she continued. "So, at that point, it was just kind of like, 'Okay, like, what's the deal? What is all of this?'"
Underwood went on to explain that each miscarriage led her directly to writing more music, noting that the sorrow made her want to get to work both to express the emotions she was having as well as avoid dwelling on such negative things.
"'Cause I would literally have these horrible things going on in my life, and then have to go smile and, like, do some interviews or, like, do a photo shoot or something, you know? So it was just kind of, like, therapeutic, I guess," she said at the time.
Earlier Wednesday evening, Underwood, 35, seemed to hint that the couple would be welcoming their second son.
CMA AWARDS: CARRIE UNDERWOOD ANNOUNCES SHE'S HAVING A 'WILLIE' 
"Remember last time when I accidentally revealed the gender of your baby?" Underwood's CMA Awards co-host Brad Paisley asked her on the Bridgestone Arena stage in Nashville.
"Tonight we're going to reveal something even more exciting — who your baby's father is!" he teased before questioning the soon-to-be mom of two about the sex of her baby.
"Johnny or June? Tim or Faith? George or Tammy?" he asked among other names before Underwood finally exclaimed: "It's a Willie!"