Pregnant Carrie Underwood reveals she had three miscarriages last year in emotional interview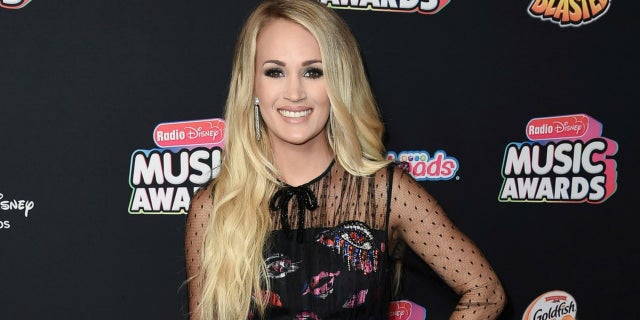 Carrie Underwood has revealed that she suffered three miscarriages throughout 2017 and early 2018.
The star, who is expecting her second child after Isaiah, 3, with hockey player husband Mike Fisher, spoke in a candid interview with CBS Sunday Morning's Tracy Smith. She covered topics including her pregnancy, meteoric rise to fame, the facial injury she suffered as well as the big reveal about her pregnancy struggles.
"I kind of planned that 2017 was, you know, going to be the year that I work on new music, and I have a baby," Underwood said. "We got pregnant early 2017, and it didn't work out."
The star revealed that she got pregnant again in the spring, but that it also didn't work out.
"Got pregnant again, early 2018. Didn't work out. So, at that point, it was just kind of like, 'Okay, like, what's the deal? What is all of this?'"
The "Cry Pretty" singer explained that each miscarriage led her directly to writing more music. She explains that the sorrow made her want to get to work both to express the emotions she was having as well as avoid dwelling on such negative things.
"'Cause I would literally have these horrible things going on in my life, and then have to go smile and, like, do some interviews or, like, do a photo shoot or something, you know? So it was just kind of, like, therapeutic, I guess," she explained.
Underwood explained that having a positive and grateful attitude also helped her avoid falling into a depressed slump.
"I had always been afraid to be angry," she said. "Because we are so blessed. And my son, Isaiah, is the sweetest thing. And he's the best thing in the world. And I'm like, 'If we can never have any other kids, that's okay, because he's amazing.' And I have this amazing life. Like, really, what can I complain about? I can't. I have an incredible husband, incredible friends, an incredible job, an incredible kid. Can I be mad? No.
"And I got mad."
However, that time didn't last long as she said she got pregnant a fourth time and prayed when she felt she was losing another baby. However, whens he went to the doctor the following day, she was given a clean bill of health both for herself and her baby. Now, the star is hard at work performing in shows before her second child arrives.