Carmen Electra says 'Strip Aerobics' series changed everything for her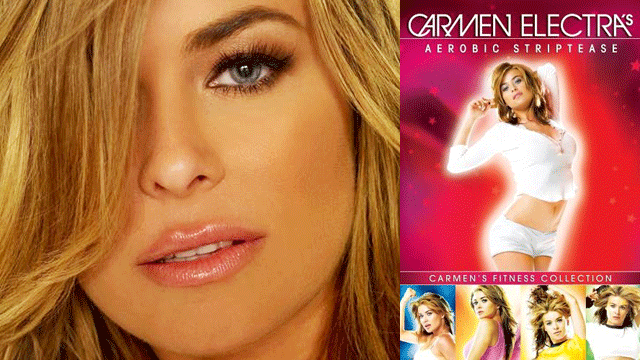 From the beaches of 'Baywatch' to the stage with the 'Pussycat Dolls,' Carmen Electra has become something of an entertainment institution. She's also helped millions of women worldwide channel her itty bitty body with a series of "Strip Aerobics" DVDs, and now the model/actress/personality is ready to become the nation's number one source for all things sexy.
"So much came from the Strip Aerobics DVD's that now I am able to do more things like write my book 'How To Be Sexy' and that was really fun to put together just little quotes, pictures and pointers on beauty and little tricks that I've learned over the years of having the best people do your hair and styling and just what I've learned from being a dancer all my life," Electra told FOX411's Pop Tarts column. "That was really fun and that lead to a collection I have designed at Spencer's, and its sexy stuff like lingerie handcuffs. Stuff you can use at bachelor or bachelorette parties, it's all tied in."
And although the 39-year-old has made a career primarily in products catering to men, she insists her passion and inspiration always comes from her own kind.
"The thing is, I love women," Electra said. "I root for women, so for me to want to share the secrets I have learned and be more on their side is such a cool thing and it came naturally over the years. I feel I've really been able to connect more with women."
Next up for the screen siren is the horror film "2 Headed Shark Attack," due for DVD release on Tuesday, January 31. While it didn't get her any Oscar nominations, Electra still relished the experience.
"It was really fun and really different for me because I am so used to doing comedies even though I'm sure there are moments that are kind of campy in the movie, just all the screaming and the running," she said. "But I prepared the same way. I see my acting coach and we sit down and go over the scenes and write little notes."
And who knows, if a biopic was ever to be made surrounding Electra's life, she already has an idea who she would want to play her.
"An Olsen twin, one of those girls," she mused. "My friend always says 'you're the other sister.'"
Danielle Jones-Wesley contributed to this report.