Cancer-Ridden Dennis Hopper Issues Restraining Order Against 'Living Hell' Wife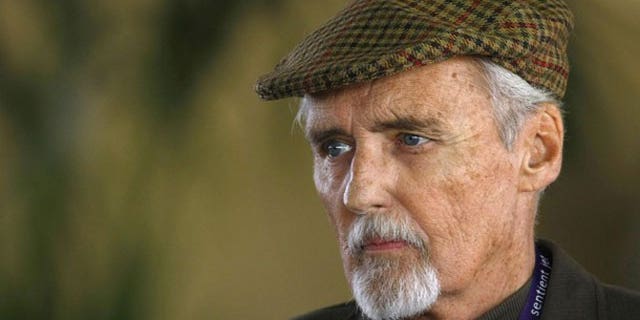 NEWYou can now listen to Fox News articles!
LOS ANGELES – The divorce between Dennis Hopper (who is currently undergoing radical chemotherapy for advanced, metastasized prostate cancer) and his wife Victoria Hopper (nee Duffy) is getting uglier by the moment, with a Los Angeles Superior Court judge on Thursday granting the 73-year-old actor a restraining order against his soon-to-be former wife.
On Jan. 14, Hopper (who according to the papers weighs just 120 pounds) filed for divorce from his wife of thirteen years, citing irreconcilable differences and seeking joint custody of their six-year-old daughter, Galen.
But the new order prohibits Duffy from communicating with Hopper via any electronic form of communication and cannot come within 10 feet of her husband, his adult children or his personal assistant. The "Easy Rider" star was awarded two-hour daily visitation rights with Galen, for whom Duffy is seeking sole custody.
In his declaration, Hopper claimed that his wife was causing "severe emotional distress," had a "long history of taking Galen away" without his prior knowledge or consent and did such things as attempt to kick his 19-year-old son Henry out of the compound belonging to Hopper and made "false and derogatory" statements about his eldest daughter, Marin.
"Victoria has made my father's life a living hell over at least the last six months," Henry Hopper stated in the deposition, before accusing Duffy of stealing valuable pieces from his father's art collection.
The situation then hit rock bottom over the holidays when Duffy allegedly took Galen to Boston for Christmas in what Dennis claimed to be a "malevolent act" that caused him "to miss what may very well be the last Christmas" he has to spend with his youngest daughter.
But Duffy shot back at her husband with claims that he often smoked pot, watched adult-themed shows on television in Galen's presence and kept loaded guns in the house where she could potentially get to them. She also requested that the court ensure she is financially well taken care of should Hopper die before the divorce is finalized, given that their pre-nuptial agreement as it stands would leave her with very little of the actor's earnings.