Calle 13 Dish On New Video Featuring Willie Mays, Combating Youth Violence In Puerto Rico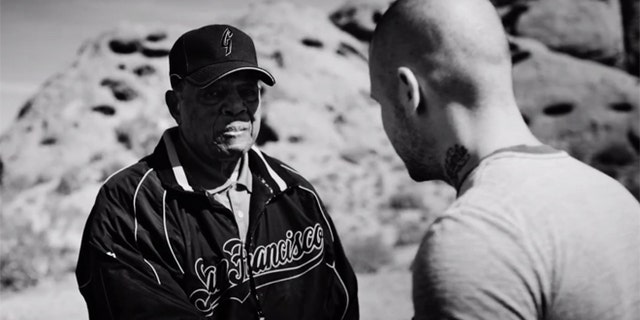 NEWYou can now listen to Fox News articles!
Calle 13 is no stranger to pushing limits and breaking barriers.
Their newest music video for song "Adentro" features an appearance by baseball legend Willie Mays, a destroyed Maserati, and a message to Puerto Rico's youth: Stop the violence.
In the video, Mays appears in a desert and hands a bat to the group's front man rapper René Pérez, aka "Residente," who takes the bat to bash his own Maserati before sending it down a cliff to a firey end. The song from the 19-time-Latin Grammy winning Puerto Rican group is from their latest album. "Multi-Viral," which debuted at No. 4 on the Latin Albums chart and No. 1 on the Latin Rhythm hart following its Feb. 28 release.
The point of the video is to emphasize that materialism and luxurious things are not important and rappers who emphasize expensive things like sports cars are doing a disservice and contributing to the violence in places like Puerto Rico.
"They are giving importance to things that are not important: to guns and to cars," Eduardo Cabra, aka "Visitante," and Pérez's step-brother, told Fox News Latino during a telephone interview from Uruguay.
"There is a lot of violence in Puerto Rico. There's also a group of people making music just to confuse the people - the children---they just listen to music and think that this is the way to live," he said.
Cabra, who's in charge of music production for the group, said "Adentro" is the anti-theme of "that way of making music." The song is also very personal for Pérez, who decided to destroy his brother's real-life used-Maserati, which he bought early in his career before the duo began traveling throughout Latin America. The car was a "mistake," said Pérez, made before they connected with the people in Latin America.
"We haven't made a ton of money," Cabra told Fox News Latino, emphasizing that sometimes they charge a bag of rice, or books for entrance to their concerts to help Latin American charities. "I don't know why my brother bought that Maserati."
As for Hall of Famer Mays' video appearance, Cabra said his brother got the idea while recording the track and they got help from their friend and fellow Puerto Rican San Francisco Giant Angel Pagan. Both brothers grew up playing baseball and idolized the "Say Hey Kid" and Hall of Famer Roberto Clemente, whose jersey is worn by Pérez in the video.
Calle 13 is in the middle of its Latin America tour, promoting the band's new "Multi-Viral" album, which is the first to be released by their independent label, El Abismo, and not Sony Music Latin. Calle 13's previous albums have sold a total of 464,000 copies in the U.S. and Puerto Rico, according to Billboard.
"Now, we have more power to do the songs for the people," Cabra explained.
Perhaps proof of this newfound freedom, Calle 13 has made its album available for a free digital download to all concert goers in Latin America. And while it's not an unprecedented idea, it's part of their plan to get their music to go viral online.
"In a way," Cabra said. "The independent label has helped us to make that happen."