Bruce Springsteen reveals mental health struggles: 'The wheels can come off a little bit'
Bruce Springsteen revealed his battles with mental health issues in an interview published Tuesday.
Springsteen, 69, told Esquire he began to worry about his own mental health when his father, Doug Springsteen, was diagnosed with schizophrenia before his death in 1998.
"I have come close enough to [mental illness] where I know I am not completely well myself. I've had to deal with a lot of it over the years, and I'm on a variety of medications that keep me on an even keel; otherwise I can swing rather dramatically and ... just ... the wheels can come off a little bit," he said.
BRUCE SPRINGSTEEN SAYS DONALD TRUMP HAS 'NO INTEREST IN UNITING THE COUNTRY' AND IS 'DOING THE OPPOSITE'
Springsteen said he had a breakdown at age 32 when he was on a road trip from New Jersey to Los Angeles. He was in Texas at a fair when he lost it, according to the magazine. He said he still doesn't know why he felt the way he did that night.
"All I do know is as we age, the weight of our unsorted baggage becomes heavier ... much heavier."
"All I do know is as we age, the weight of our unsorted baggage becomes heavier ... much heavier. With each passing year, the price of our refusal to do that sorting rises higher and higher," the "Born to Run" rocker said. "Long ago, the defenses I built to withstand the stress of my childhood, to save what I had of myself, outlived their usefulness, and I've become an abuser of their once lifesaving powers. I relied on them wrongly to isolate myself, seal my alienation, cut me off from life, control others, and contain my emotions to a damaging degree. Now the bill collector is knocking, and his payment'll be in tears."
He also discussed a second breakdown after turning 60, which he estimated to last three years. He said he never contemplated suicide, but admitted "I once felt bad enough to say, 'I don't know if I can live like this.'"
Springsteen also touched on feeling unsure about who he is as a person.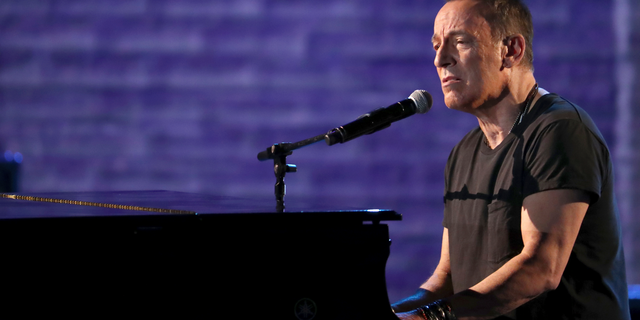 "Bruce f---ing Springsteen is a creation. So it's somewhat liquid — even though at this point you would imagine I have it pretty nailed down. Identity is a slippery thing no matter how long you've been at it. At the end of the day, identity is a construct we build to make ourselves feel at ease and at peace and reasonably stable in the world," he said.
FAKE BRUCE SPRINGSTEEN, CLAIMING TROUBLES WITH 'GOLD STASH,' REPORTEDLY SCAMS WOMAN OUT OF MORE THAN $10G
He added, "But being is not a construct. Being is just being. In being, there's a whole variety of wild and untamed things that remain in us. You bump into those in the night, and you can scare yourself."
Springsteen also touched on politics and had a scathing take on President Trump, saying he has "no interest in uniting the country."
The singer is set to close out his one-man Broadway show next month. The show will air on Netflix starting Dec. 16.