Brazilian supermodel Alessandra Ambrosio brings daughter to work – to Paris runways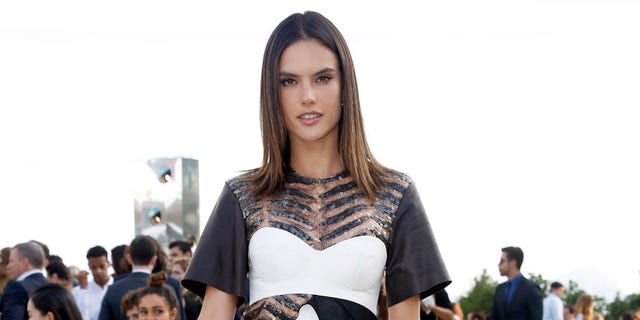 NEWYou can now listen to Fox News articles!
Alessandra Ambrosio's 7-year-old daughter Anja tagged along for the very first time to one of her mother's glamorous runway shows at Paris Fashion Week this weekend.
"My little girl watching me for the first time with Uncle @matmazzafera," the Brazilian supermodel wrote in an Instagram video of her daughter admiring all the looks at Saturday afternoon's Balmain Menswear Spring/Summer 2017 show.
Anja, whose father is businessman Jamie Mazur, got to see her mother sporting a rainbow-striped mini dress before she changed into a black sheer gown with a touch of green on a belt.
In addition to catching the glamorous fashion show, the mother-daughter duo took time to go sightseeing in the City of Lights.
Ambrosio's Snapchat account showed the two girls partaking in some fun mock photo shoots around the city and enjoying some pool time at their hotel.
In a recent interview with Who What Wear, the gorgeous supermodel and supermom opened up about her daughter, admitting that Anja continues to remind her what's important in life.
"Every day I learn something new from Anja, but her thoughtfulness is what I appreciate the most," she said. "This last Thanksgiving, she decided to compose a very precious email to all of her friends and family and tell them how thankful she is to have them in her life."