'Brave' Cuts Through Competition, Hits No. 1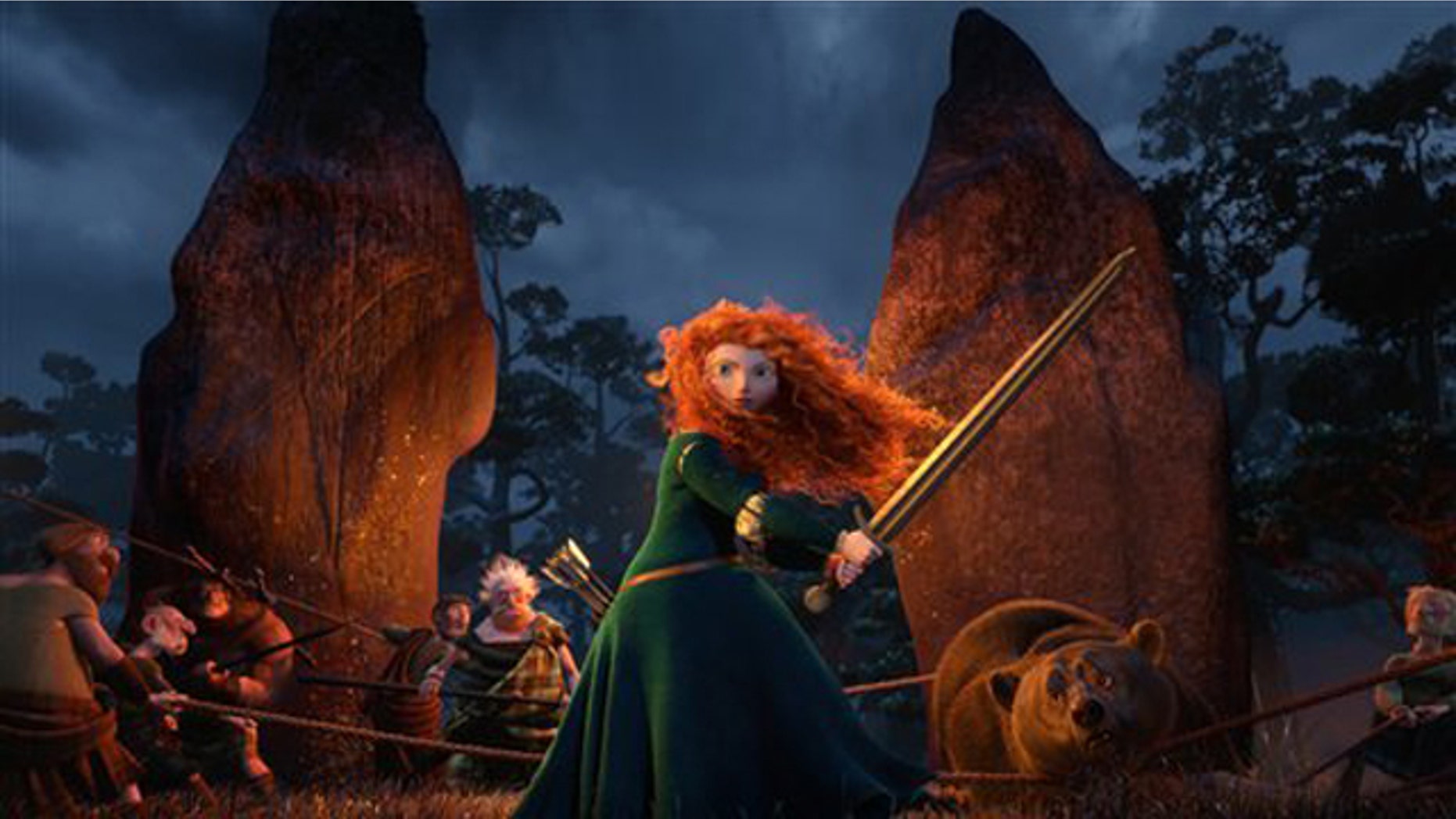 "Brave" showed it is one tough no non-sense movie.
The Disney/Pixar flick took the No. 1 spot —beating the thriller "Abraham Lincoln: Vampire Hunter," and the animated "Madagascar" from Dream Works.
"Brave" added $13.5 million in 10 overseas markets for a worldwide start of $80.2 million.
The 20th Century Fox action tale "Abraham Lincoln: Vampire Hunter" opened far back at No. 3 with $16.5 million, behind "Madagascar 3: Europe's Most Wanted."
DreamWorks Animation's "Madagascar" sequel had been No. 1 for two weekends and added $20.2 million to raise its domestic total to $157.6 million.
"Brave" is the 13th-straight Pixar release to open at No. 1 since "Toy Story" launched Hollywood's age of computer animation in 1995.
In the film, Spanish illustrator Ramiro López Dau had the opportunity to bring "Brave" to life by taking audiences on a wild adventure with a princess living in a medieval Scotland castle, who struggles to see eye to eye with her demanding mother queen.
"When you watch the movie we all relate to what's going on," López Dau said in reference to the mother-daughter dynamic between the headstrong Merida and queen Elinor. "It is [about learning to] believe in yourself and fight for what you think is right."
In "Brave" audiences meet Merida, a feisty young princess and an archery wizard who fights to create her own destiny.
Set in her ways of not having an arranged marriage—as her mother suggests—Merida defies her mother and takes it into her own hands to change her fate. Unfortunately, things don't go according to plan, forcing Merida and Queen Elinor to mend their broken bond.
López Dau notes that in 17 years this is the first time Pixar has a female lead, thus pushing López Dau and his team to go the extra mile into making Merida a one-of-a-kind princess.
"Merida was a difficult character to deal with," said the Argentinean-born illustrator. "She is a strong character and the director wanted the attitude to show in every movement."
For Brenda Chapman, the film's initial director, it was all about conveying a relatable person.
"I wanted a real girl," Chapman told The New York Times.
"Fairy tales have gotten kind of a bad reputation, especially among women," she said, adding that this is the closest to a fairytale that Pixar has come to doing.
"I wanted wildness about her," she said. "That's where the hair came in, to underscore that free spirit. But mainly I wanted to give girls something to look at and not feel inadequate."
Paul Dergarabedian, analyst for box-office tracker Hollywood.com, says it is rare for Pixar films not to be successful.
"Their track record is just unbelievable," Dergarabedian. "The Pixar brand just carries so much weight with the audience, it doesn't matter almost what the story is about if it has the Pixar name."
"Brave" matched the $66.1 million debut of Pixar's "Cars 2," with male automotive lead Lightning McQueen, over the same weekend a year ago.
López Dau said that being Latino and part of such a passionate and animated culture has helped him master the emotions needed to portray in his animations. This, he added, greatly helped in creating Merida and was especially helpful in developing characters for other Pixar films such as "Cars 2."
"It was cool because each person from each country got to work on the car from their country," Lopez Dau told Fox News Latino. "I was assigned to Francesco, who is Italian. Latino and Italian cultures are very similar."
The audience for "Brave" did lean toward females, who accounted for 57 percent of viewers. Two-thirds of the film's business came from families, who also continued to flock to "Madagascar 3," making a rare weekend when two PG-rated movies led the box office.
The Associated Press contributed to this report.