Brad Paisley, Carrie Underwood win 'Remind Me' lawsuit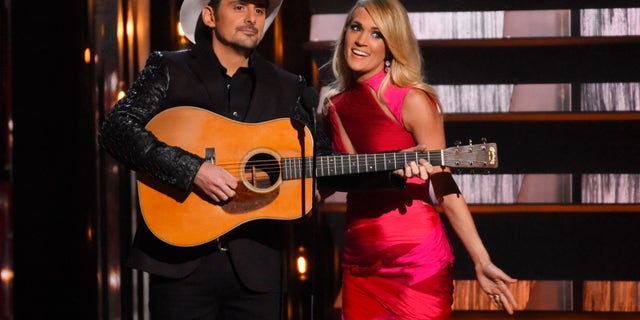 A lawsuit that claims Brad Paisley and his "Remind Me" co-writers stole an idea when they wrote and recorded the 2011 hit was decided this week. The artists, songwriters and publishers have defeated a copyright claim from singer and songwriter Amy Bowen.
Bowen is known professionally as Lizza Connor. She wrote a song called "Remind Me" in 2007 and played it around Nashville over the next few years, including during a 2008 workshop, where writers Kelley Lovelace and Chris DuBois were advisors. DuBois and Lovelace co-wrote Paisley's "Remind Me," a duet with Carrie Underwood. Bowen asked for $10 million, claiming Paisley and Underwood's use of the phrases "Remind me" and "Baby, remind me" were similar to her version of the song.
Judge Aleta Trauger ruled that was not enough. Bowen admits her song is "sentimental and sad," with the singer grieving the end of a relationship. The opinion points out that she "agrees that (her) song is not a conversation between two people, is 'not two people singing back and forth to each other,' and is 'not a call and response.'"
Conversely, Paisley's song is. The most interesting part of the opinion details Paisley's testimony. He says he wanted one more song for his This Is Country Music album and recalled DuBois' wife had said something previously about writing "a song about kissing somebody's neck." On Feb. 6, 2011, he and Lovelace began that song, and after several hours, the singer shared it with wife Kimberly, but she didn't like it. So they started from scratch, intending to "include a ballad full of sexual tension for the album."
"Paisley scanned through a list of words and phrases that Lovelace kept on his laptop computer as notes for potential song titles and ideas, all of which Paisley had already seen before. Among the dozens of possibilities on the list was the phrase Remind me so I wont forget. Paisley asked Lovelace if there was a story behind the phrase, but Lovelace responded that it was simply an idea he had come up with and written down at some point."
From there they began writing the song, eventually bringing DuBois into the process. Two days later the song was finished, and Underwood agreed to record her vocals on Feb. 8, 2011. She did so on Feb. 11, 2011. Paisley testified that although he was inspired by Lovelace's list of ideas, he alone came up with the underlying idea behind the song and chose the title. All three contributed lyrics, but Paisley wrote the melody, as he usually does when writing with these two songwriters.
The Hollywood Reporter was first to report the latest ruling on this case, and one can find the entire 31-page report at their website. The full lyrics of both Bowen and Paisley and company's versions of "Remind Me" are also in the ruling, showing that the phrases "Remind me" and "Baby, remind me" are the only similarities. Judge Trauger concludes that: "Because the undisputed facts establish that the allegedly infringing Paisley Work is not substantially similar to the plaintiff's copyrighted Work, the defendants are entitled to summary judgment in their favor. An appropriate order granting the defendants' motion is filed herewith."
The case was decided in U.S. District Court, Middle District of Tennessee Nashville Division. It was originally presented in May 2013 and moved forward in December 2013 after Judge Trauger denied Paisley's dismissal request. In August 2014, the two singers again collaborated on a song called "High Life." Many believe they were poking fun at the lawsuit with this lyric:
I heard a song a couple months ago / It was Carrie Underwood on the radio / It reminded me of a poem my brother wrote / Back in second grade / I know she didnt steal it, but so what / We lawyered up and sued her butt / These days we figure we pretty much get paid to go away.