Bill Murray pushes fan who actor claims shoved his female friend at Sydney airport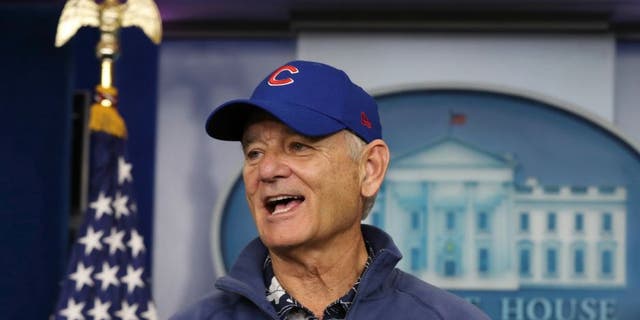 Bill Murray appeared to push a fan after the man got too close to the actor's friend at the airport in Sydney, Australia.
The actor was walking through the airport with his musician friends, Mira Wang and Jan Vogler, when they were approached by a few fans. In a video obtained by the Daily Mail on Friday, Murray appears to get visibly upset when one fan allegedly shoved Wang to get closer to the actor.
In the video, the 68-year-old actor noticed the man's approach and quickly dismissed him by pushing him away from the group. Wang also appeared to try and keep the man from getting in her way as she followed behind Murray.
"Did you just assault my friend?" a man asks the actor to which Murray replied, "He just pushed a woman sir, he just pushed a woman."
A security guard also followed Murray and his entourage waving more fans away from the group.
A rep for Murray did not immediately return Fox News' request for comment.
Murray, who is in Australia for two performances of his current show, "Bill Murray, Jan Vogler & Friends: New Worlds" at the Sydney Opera House, maintained a low profile while strolling through the city's airport. The actor was simply dressed in sweatpants, a plaid shirt and baseball cap with sneakers but the dressed-down look clearly didn't stop people from recognizing him.
Murray made headlines back in August after he was accused of slamming a photographer against a door and pouring a glass of water over him while he was shooting a band at a Massachusetts restaurant.
Peter Simon, who is the brother of singer Carly Simon, told The Boston Globe at the time that he was on an assignment for The Martha's Vineyard Times at Lola's in Oak Bluffs on Wednesday when Murray allegedly accosted him, swore at him and threatened him. He wasn't injured.
"He looked like he was ready to strangle me," Simon told the outlet. He said that when Murray grabbed him he asked the actor, "Do you know who I am?" implying that he was a well-known photographer.
Murray allegedly answered, "Do you know who I am?" Simon said he did not immediately recognize the "Groundhog Day" star but eventually realized it was Murray after the actor walked away.
Simon said the band invited him to the restaurant and he was not there to take pictures of Murray. However, restaurant's owner, Katherine Domitrovich, told police that Simon had "no business photographing anyone in the restaurant and was generally annoying," the report reads according to The Globe.
Simon denied her statement saying "that's a complete lie" and he wants an apology from her and from Murray.
According to the police report, Murray was "visibly upset" and said Simon was harassing him.
Fox News' Sasha Savitsky and The Associated Press contributed to this report.