'Big Bang Theory' stars discuss that big Season 10 cliffhanger
Anyone who is a fan of CBS' "The Big Bang Theory" was likely floored by the Season 10 finale cliffhanger. The stars of the hit comedy took the stage at the 2017 San Diego Comic Con where they could finally talk to fans about their reaction to the big moment.
[Spoiler Alert: The remainder of this article will discuss the Season 10 finale of "The Big Bang Theory."]
After Sheldon inadvertently entertained an inappropriate relationship with another woman, he spent the last moments of the finale traveling to Princeton where he immediately got down on one knee and popped the big question to Amy. The moment comes at the peak of a long arc between the two characters that began when Mayim Bialik joined the cast in 2010. Now, with fans eagerly awaiting her answer, the cast took to the SDCC to share their feelings about the scene. According to Variety, they opened the discussion with Kaley Cuoco and Kunal Nayyar admitting that everyone was crying, except Johnny Galecki who claimed he came as close to crying as he's capable of.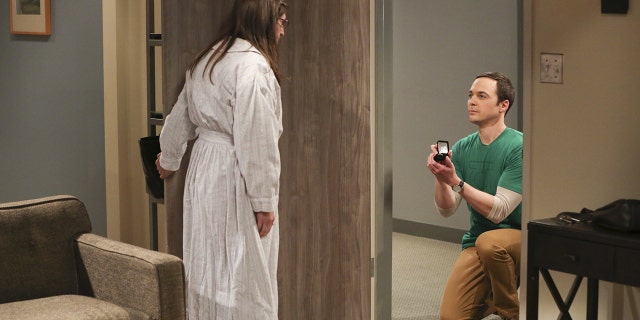 "To see that be the pinnacle of this season was really cool," Cuoco told the crowd. "We've all come such a long way.
'THE BIG BANG THEORY' FINALE RECAP: SHELDON AND AMY STRUGGLE WITH LONG DISTANCE AND TEMPTATION
That wasn't the only behind-the-scenes moment that the cast shared with the Comic Con crowd. According to Entertainment Weekly, Cuoco and Galecki revealed the circumstances surrounding an on-set injury from a prank gone awry.
In an effort to shock the cast and crew during a scene in which the two characters were fighting, Galecki jokingly pretended to punch his co-star in the face. However, the actress' head accidentally caught a chair while she was falling and the end result was stitches in her eye brow.
'THE BIG BANG THEORY' ACTRESS MAYIM BIALIK RECEIVES 'DOOGIE HOWSER' ROYALTY CHECK FOR TWO CENTS
"We're not allowed to do those jokes anymore," Cuoco said with a laugh.
"The Big Bang Theory" will return for Seasons 11 and 12, which are expected to be the show's last.