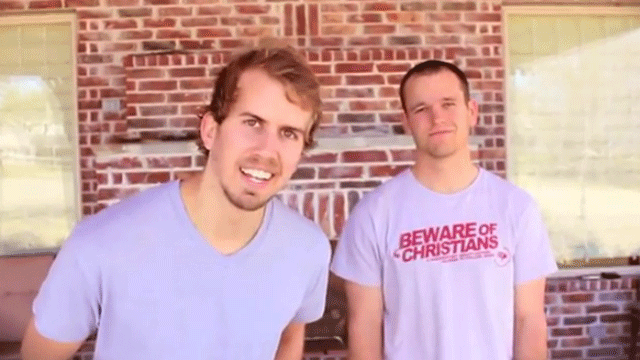 It has been one wild ride for Texas college graduate Wilbur "Will" Bakke, who has taken the country by storm in recent months promoting his documentary "Beware of Christians."
Joined by three pals who also grew up as Bible-believing Christians, Bakke travelled across Europe to make the thought-provoking film, and in the process concluded that Jesus doesn't exactly resemble the healthy, wealthy Americanized Jesus that he had grown to know and love.
"Most Christians feel like they have to be perfect all the time, and go to church, and there all these rules about drinking, sex and materialism," Bakke told FOX411's Pop Tarts column. "But it is not about church at all, it is about really getting to know Jesus, really developing your own, personal relationship with Him. When you have this, you will be compelled to act differently."
Bakke hopes that the film resonates especially with young people and college students.
"Often when people go away to college, their belief is questioned – suddenly nobody is forcing you to go to church, and you realize the faith you had was never your own, it was something instilled into you with rules on what is right and what is wrong," he continued. "We wanted to really explore these topics."
And it was in getting his word across to college students in California last month that Bakke had the surprise opportunity to reach a much broader cross-section of America.
"We had a day open so we decided to try and get into a taping of 'The Price is Right,' and I ended up getting called down. It was hilarious, we all freaked out on national television," he explained. "I was able to tell Drew (Carey, the host) what I did, spin the wheel and say hello to my friends and family."
And on the episode, which airs this Tuesday March 13, Bakke reached out to another crucial name in his life.
"Most importantly, I was able to say that I love Jesus, and that's all you really need to know about me," he quipped.
As for feedback regarding "Beware of Christians" across the country, Bakke said one word in particular continues to crop up: "refreshing."
"We were so tired of seeing Christian-based films that paint a reality of what life should be and not what is actually is. A lot of faith films try to push messages and don't have a good story, that's why Christian films are often not good," he added. "We wanted to let our beliefs and faiths come behind and support a strong story line, story is the most important when communicating these ideas. That's what people want."