Author: Chris Rock 'a coward' for not responding to questions about Tea Party comments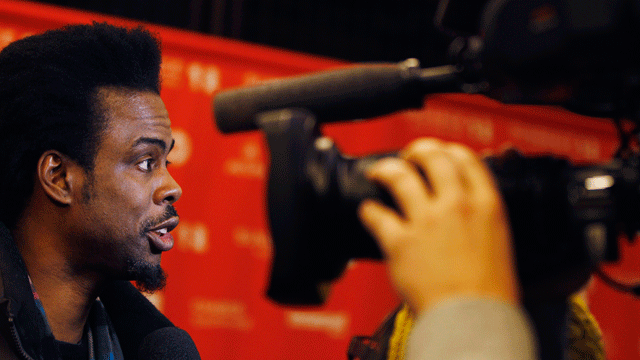 Chris Rock and his team are keeping quiet about the actor's attack on a camera man when conservative author Jason Mattera asked him about his views on the Tea Party being racist.
A video of the scuffle was released last week in anticipation of Mattera's new book, "Hollywood Hypocrites: The Devastating Truth About Obama's Biggest Backers."
The footage shows Rock attacking a camera person and grabbing the camera when Mattera asked him on camera about his views on the Tea Party.
"He wrestled it [the camera] away successfully, then launched it about fifty feet against a wall in an attempt to smash it," Mattera told Fox411.
Mattera told us his plan was to ask Rock for his evidence that the Tea Party was racist and whether he thought it was responsible to give that generalization to all of Americans who support the movement.
"But, alas, he went all crazy-town once he heard the words 'Tea Party.' I never even finished the question," Mattera said.
Rock made his initial comments about the political party during an interview with Esquire magazine last year.
"I actually like it, in the sense that — you got kids? Kids always act up the most before they go to sleep. And when I see the Tea Party and all this stuff, it actually feels like racism's almost over. Because this is the last — this is the act up before the sleep. They're going crazy. They're insane. You want to get rid of them — and the next thing you know, they're f**king knocked out. And that's what's going on in the country right now," Rock said.
The author says that no one was injured in the scuffle and that the camera was not damaged.
When asked about the altercation, Rock's publicist said that they had no comment.
The video was taken around 2am at an after party being held for Spike Lee at the Sundance film festival at the end of January, 2012. Rock was at the festival to promote his latest project, a film directed by Julie Delpy, "Two Days in New York."
Rock allegedly asked Mattera if he wanted to "throw down" after he went after the cameraman.
Mattera has a history of tweaking liberal politicians on camera. His website includes a video of Mattera trying to get Senator Bernie Sanders to sign his own book on socialism to "Capitalism, the greatest economic system on earth" and asking Senator Barney Frank advice on how to start a brothel.
Mattera did say he was surprised by Rock's vitriolic reaction to his questioning and called him a coward for not engaging with him in conversation.
"Here's a man who can dish it, who tries to act all tough against Obama's critics. Yet apparently can't take the scrutiny himself. What a coward."
Mattera said he will not be pressing charges.
"That's not how I roll," he said. "I wanted to expose Chris Rock for his deplorable comments and hypocrisy. Mission accomplished."