Asia Argento reportedly vows revenge on ex-friend Rose McGowan while debuting new tattoo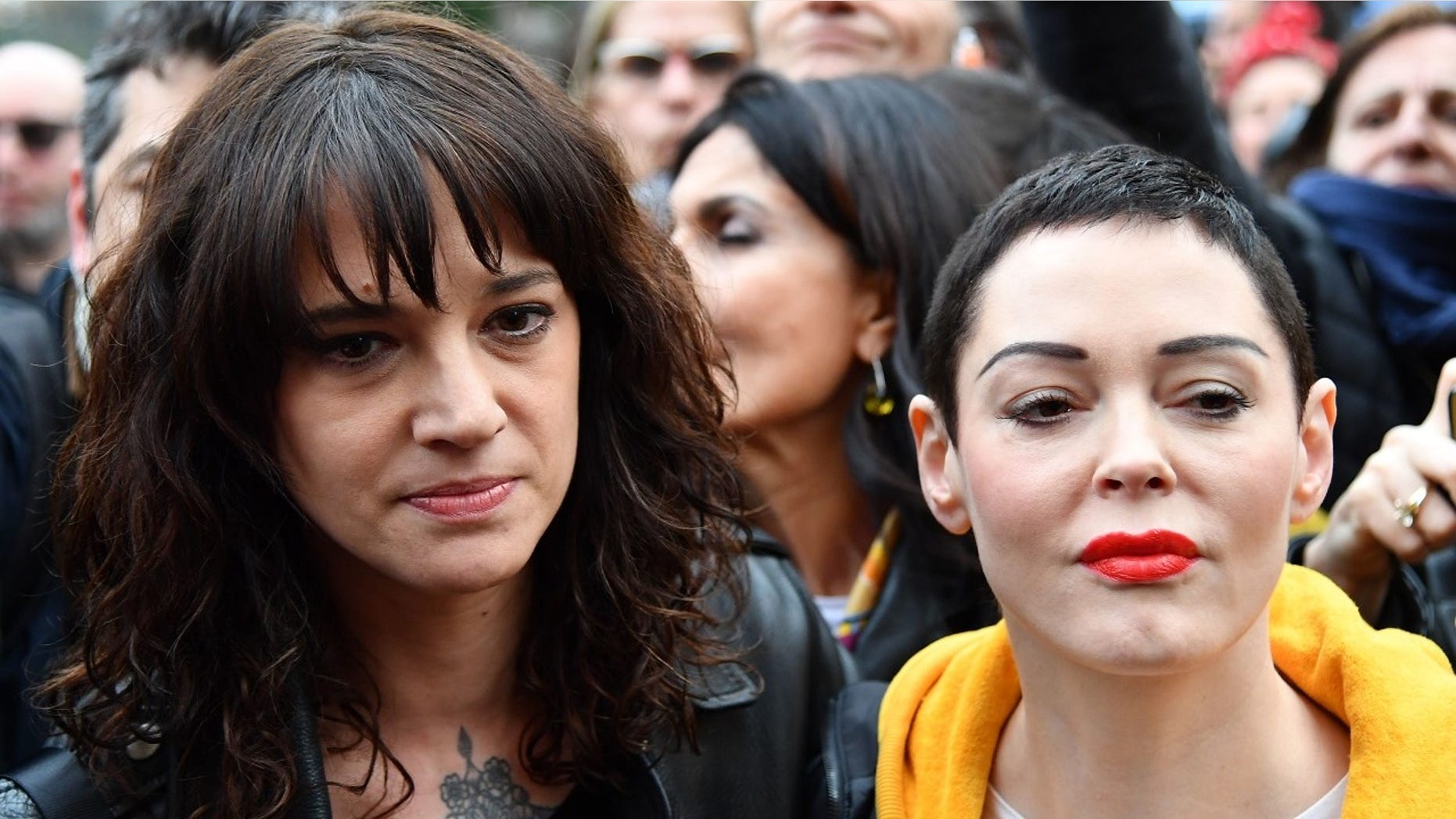 It's hard to believe they once considered each other their "ride or die."
Asia Argento reportedly debuted a new tattoo of a bloody dagger on Saturday and vowed to get revenge on her former friend, Rose McGowan, who released a previous statement the Italian actress said was filled with "horrendous lies."
"Bye bye @rosemcgowan," Argento wrote in an Instagram Stories post along with a photo of her foot and the dagger tattoo. She also tagged the tattoo artist Marco Manzo.
In another post, Argento wrote, "Significato: vendetta consumata," which is "consumed revenge" in Italian.
Argento also quoted a Bible passage from Romans 12:19 that states, "Dearly beloved, avenge not yourselves, but rather give place unto wrath: for it is written. Vengeance is mine; I will repay, saith the Lord," according to Us Weekly.
Argento and McGowan's relationship soured after the "Charmed" actress released a statement on Aug. 27 claiming Argento admitted to having sex with Jimmy Bennett. In the text messages between Argento and McGowan's partner, Rain Dove, published by TMZ, the Italian actress said she had been receiving "unsolicited nudes" of Bennett since he was 12.
ASIA ARGENTO RESPONDS TO ROSE MCGOWAN'S APOLOGY OVER SEXUAL ABUSE ALLEGATIONS
Argento said McGowan's statement was filled with "horrendous lies" and threatened to sue her former friend. McGowan on Thursday apologized to Argento because the statement "contained a number of facts that were not correct."
"The most serious of these was that I said that the unsolicited nude text messages Asia received from Jimmy Bennett had been sent since Jimmy was 12 years old," McGowan wrote.
In response, Argento said even though she is "grateful" McGowan had issued a "full apology," she wished it had come sooner.
"Although I am grateful to @rosemcgowan for her full apology following her groundless allegations about me, if she had issued it earlier, I may have kept my job on X-Factor and avoided the constant accusations of paedophilia [sic] which I have been subjected to in real-life and online," Argento wrote on Twitter.
Argento and McGowan became good friends last year after they both became prominent figures in the downfall of disgraced movie mogul Harvey Weinstein and the rise of the #MeToo movement.
But on Aug. 19, a New York Times bombshell report detailed an alleged 2013 sexual encounter between Argento, then 37, and Bennett, then 17, in a Ritz-Carlton hotel room in Marina Del Rey, Calif. Citing court documents, The New York Times reported, Argento, through her late boyfriend Anthony Bourdain, paid roughly $380,000 to Bennett after he confronted her about the alleged incident.
Argento appeared on Italian TV La7's "Non e I'Arena" Sunday night and denied the allegations. She told host Massino Giletti she was the one who was assaulted by Bennett.
"He literally jumped on me; he put me sideways across the bed. He did what he had to do. He didn't use a condom. It lasted for two minutes," Argento said, according to the Hollywood Reporter. "He had an orgasm. I was cold, unable to move. Shocked, I asked him afterward why he had done this, and he told me that I had been his sexual fantasy since he was 12 years old."
The actress continued to deny Bennett's version of the alleged encounter and insisted she saw him "like a lost son."
Argento also provided text message exchanges with Bourdain showing the late celebrity chef was the one who insisted on paying off Bennett, despite her reluctance "because they [Bennett's accusations] were lies."
As for Dove and McGowan, Argento said they "are all people hungry for money that do not have any scruples."
"Rain Dove makes me sick, makes me throw up, is an unscrupulous, really bad person," Argento said on Sunday. "These two women have sold those messages in a selective manner, saying that I had received Bennett's nude photos since he was 12, but it was not true. For that people started calling me 'pedophile.'"
Fox News' Mariah Haas contributed to this report.