Anti-Establishment Brazilian Musician Caetano Veloso Accused Of Supporting Censorship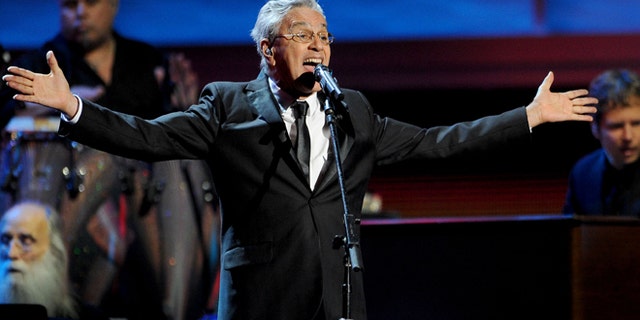 RIO DE JANEIRO – Brazil's superstar singer Caetano Veloso fled to exile in London in 1969 after the country's military dictatorship censored and imprisoned him because of his catchy, anti-establishment anthems.
Me, a censor? Over my dead body,
Now, Veloso is taking a shellacking from the press and his fan base alike, who say he's endorsing censorship by leading the defense of a wide-ranging law that allows Brazilians to block or pull from the shelves any biographical work about them that was created without their consent.
With Brazil's publishers mobilizing to repeal the restrictions, Veloso, romantic crooner Robert Carlos and other singers who became famous under the dictatorship have banded together to defend the 2003 law, which empowers Brazilians to quash works they consider attacks on their "good name or respectability."
That means objections by a biography's subject are enough to get the books removed or even keep them from reaching stores, with many publishers not printing a book if it's not explicitly endorsed by a subject. The law also applies to films and other media, though the debate and legal actions have focused on books. Critics say it is possibly the most extreme law regulating privacy and intellectual property among democratic nations.
Legal experts such as Rio-based attorney Gustavo Tenorio said the law's wording restricting the "publication, exposition and use of the image of a person" could encompass newspaper and magazine articles and TV news accounts. So far, most of the works have portrayed artists and celebrities. But the law opens the door for much wider impacts.
Brazil's Supreme Court scheduled late-November public hearings on the constitutionality of the law in response to a request from Anel, a national publisher's association, to quash the measure. A bill allowing biographies of people with a "personal or professional trajectory that has a public dimension" is also pending before Brazil's lower house and may be voted on next month. If it passes, it would go to the senate.
Meanwhile, the two sides are duking it out in the press, with feisty debates on talk shows and a barrage of op-ed pieces.
The law's defenders, which include other revered icons such as musicians Chico Buarque and former Culture Minister Gilberto Gil, insist it's necessary to protect people's right to privacy and prevent defamation.
"Me, a censor? Over my dead body," Veloso wrote in a recent column in Rio de Janeiro's O Globo newspaper. "In the tug-of-war between freedom of expression and the right to privacy, every caution is necessary."
Still, Veloso, who hasn't suppressed any biography about himself, concluded, "We'll all be enriched if we recognize that the right to privacy must supersede that of free expression."
In a five-minute video posted Tuesday on the Facebook page of the artist group, Roberto Carlos acknowledged that his position had been "radical" and Gil called on judges to balance free speech with privacy protections.
But free speech experts such as Christine Jenkins, a University of Illinois professor whose research focuses on censorship, said the current law's effect was already chilling.
"It's really extreme, it's like something out of Stalin's USSR or a law from Nazi Germany," she said. "It's unquestionably a catchall for censorship, it could be used to stop anybody from writing about anyone. It grinds historical scholarship to a standstill."
Tenorio said under his interpretation, investigative journalism reports are protected speech, while reports focused on a subject's private life, such as affairs, drug use or illness, would not be protected unless it had a direct impact on the subject's performance in the public sphere.
Gustavo Binenbojm, an attorney representing Anel, said he wasn't aware of any cases of the law being invoked to halt the publication of a newspaper or magazine article. "Nobody has had the courage to try that," he said, "it would be too absurd."
He also knew of no major political figure who had blocked a biography, but underscored that "in Brazil, there's such wide fear about this law, that people simply don't attempt these biographies."
Ernesto Rodrigues, author of a biography about Joao Havelange, the mercurial former head of soccer's governing body, FIFA, said the law warps the relationship between biographers and their subjects.
Publication of Rodrigues' book "Jogo Duro," or "Hard Ball," was delayed for a year after Havelange, who had initially signed off on the biography, rescinded his authorization and threatened to go to court to have the book held back.
"Writing a biography in Brazil is like writing about politics under a dictatorial regime," said Rodrigues. "You're scared of writing about certain things and that fear can end up compromising the whole project."
Roberto Carlos succeeded in having an unauthorized biography about him pulled from the shelves in 2007 on grounds that it invaded his right to privacy. Another biographer, Ruy Castro, has suggested it was because "Roberto Carlos in Detail" mentioned the singer's prosthetic leg, the result of a childhood accident about which he's rarely spoke openly.
Critics of the law say Brazil should more closely follow the lead of other Western democracies such as the U.S., where the First Amendment forbids prior restraint in virtually all circumstances and strong libel laws prevent biographers from knowingly printing false, defamatory information.
Veloso's ex-wife and producer, Paula Lavigne, who's acting as the spokeswoman for the artists defending the law, has said such U.S.-style protections wouldn't work in Brazil because of the country's notoriously inefficient court system, which generally awards only small amounts in damages.
Meanwhile, some say they're hoping their adored singers will have a change of heart.
"For me and so many other Brazilians, these guys are idols," Rodrigues said, "and their position on this issue is just not compatible with everything they've stood for their whole lives."
Follow us on twitter.com/foxnewslatino
Like us at facebook.com/foxnewslatino