Angelina Jolie's Top Priority: Protecting Orphans in Haiti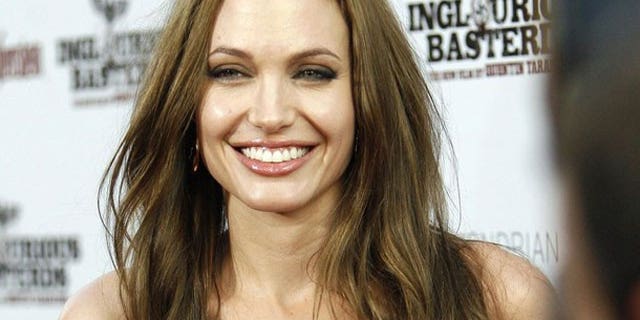 NEWYou can now listen to Fox News articles!
LOS ANGELES – Throughout her incredibly successful career, Angelina Jolie has taken on a wealth of different roles. But, one thing that seems to never change is her world-renowned status as a champion for human rights, with a particular focus on protecting children in Third World countries.
Jolie returned to the SOS Village in Santo, Haiti, outside of Port-au-Prince last weekend to evaluate the progress made since her last trip more than six months ago, shortly after the Caribbean country was struck by a 7.0-magnitude earthquake.
"One of Angelina's highest priorities is protecting children without family; she was there to meet with Haitian officials to try and figure out solutions," said Heather Paul, CEO of SOS Children's Villages, an organization that provides housing and long-term care for orphaned or abandoned children in 132 countries worldwide.
Both Jolie and her partner, Brad Pitt, have been longtime supporters of SOS, and, in the past, the 35-year-old star has visited an SOS Emergency Relief Program in Chad, an SOS Children's Village in Ethiopia, and together the couple also sojourned to the SOS Village in Amman, Jordan.
And no surprises here – Jolie, who even brought toys to the children on her recent visit, creates quite a commotion whenever she comes to town.
"The children are out of their minds. They love her, she's very hands on and spends time with them and that means a great deal," Paul said. "Haiti is a hard place right now, our villages are overcrowded. We have 500 children instead of 200 children who are without parental care with us at the moment. We have 800 children in our school in the SOS village, so there are a lot of challenges. But just to have Angelina there recognizing these challenges really brings everybody up. It's a wonderful thing."
On the subject of schooling, another critical component of Jolie's mission in Haiti is to ensure that as many young ones as possible find a place in the public education system.
"I'm sure Angelina was aware of how crowded conditions were, but she had to be inspired by the fact that we have so many children in school, and we are negotiating with the Haitian government now to have them construct more schools," Paul told us. "I can imagine that Angelina would believe that public education for children in a country like Haiti is absolutely essential to the nation's future."
Jolie's visit also has been beneficial to SOS in creating a resurgence of attention on the natural disaster zone, and reminding people that while six months have passed, the devastation rages on – but ultimately it is in the hands of each individual to decide where they want their charitable dollars to be spent.
"It is always a challenge (to keep up awareness), and now we have our domestic tsunami with the BP oil spill, so it's very understandable that America's interest is split – we have a lot to deal with," Paul added. "So each American needs to figure out how best to support the efforts they think are most important … But I always say, there are celebrities, then there are celebrities – Angelina does a terrific job in wearing all the different hats."