American Idol: Pia Toscano Eliminated, Jennifer López Outraged!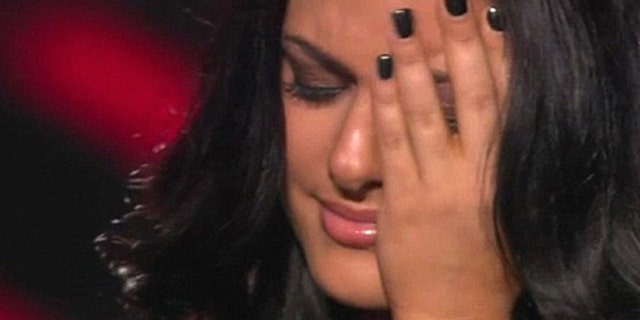 In a shocking turn of events, Pia Toscano was voted off American idol – drawing the shock and ire of Jennifer López.
"I have no idea what just happened here," said an emotional López. "I'm shocked. I'm angry. I don't even know what to say."
Fellow judge and music producer Randy Jackson could barely contain his disbelief at seeing one of the competition's seemingly best singers being booted off the show.
"I think we're all in shock and guttered. You're one of the best singers in this. We said it last night. No one is ever safe," Jackson said. "If she thought she was safe, look at where she is now."
"I'm never upset on this show and I'm never really mad. But this makes me mad," he added, his voice cracking. "I mean, what is going on?"
Steven Tyler, AI's third judge, questions the voters' decision.
"I don't know, America," he said. "Mistake is one thing, but lack of passion is unforgivable. They're wrong. I don't know what happened with this. She's beautiful. When she sings she's a bird."
With tears in their eyes and bewildered faces, the safe contestants gave Toscano a group hug.
Jacob Lusk and Stefano Langone, who were also in the bottom three, seemed confused with the results. The final cut came down to Lagone and Toscano.
The judges couldn't keep Toscano because they used their only save on Casey Abrams two weeks ago. Still, host Ryan Seacrest gave Toscano an opportunity to sing her swan song.
"I know people at home would love to hear you sing one more time before we have to say goodbye," he said.
With her head held high, Toscano took the microphone and sang The Pretenders' "I Stand by You" one last time. She ended the song and buried her face in her hands as López, Tyler and Jackson, as well as the remaining contestants, embraced her.
You can reach Alexandra Gratereaux at: Alexandra.Gratereaux@foxnewslatino.com
Or via Twitter: @GalexLatino
Follow us on twitter.com/foxnewslatino
Like us at facebook.com/foxnewslatino