American Idol: JLO Gets an Eyeful of Steven Tyler Yikes!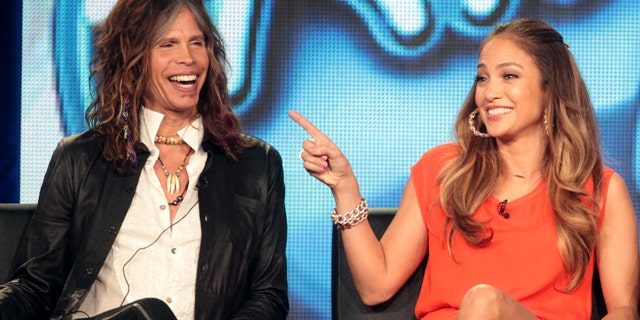 Talk about loving your birthday suit and flaunting it!
The latest buzz is that Jennifer Lopez was mortified when she caught fellow American Idol judge Steven Tyler skinny dipping," Entertainment site OnTheRedCarpet.com reports.
American Idol host Ryan Seacrest told the story in an interview with Jay Leno.
Lopez, Tyler and Randy Jackson were in Vegas filming an episode of the singing competition at the Le Rêve Hotel. A contestant had finished performing over Le Rêve pool, when Tyler decided to get nude and jump in.
"I heard this scream from Jennifer Lopez," Seacrest recalled. "I looked up and she was standing over the Le Rêve pool… screaming, looking down at a naked body in the water!"
American Idol Top 10 Latino Moments
OnTheRedCarpet.com reports that the naked body was none other than Tyler imitating the underwater dancers who perform the in the hotel's "Le Rêve - The Dream" show.
"Hey, I'm from Boston!" Tyler said. "I just thought, I've watched the show all week and I'm a water guy and... I just wanted a good excuse to take my clothes off in front of J.Lo."
Tyler added that he "wanted her to see what she was missing." Um, OK.
Music producer Randy Jackson added that JLO being newly single has changed the vibe on the show.
American Idol's Pia Toscano's Sexy Style
"When Jennifer announced that she was single, strange things started happening on the set," Jackson said jokingly.
Tyler added that he does not mind making Lopez notice him.
"I live to try to make her blush," said Tyler.
As for Lopez, she is on the fence about ever getting married again or taking her fling with backup dancer Casper Smart to another level.
When asked if she would ever walk down the aisle a fourth time, Lopez was undecided.
"I don't know. I don't know. I don't know. We'll see. I mean, I don't know," Lopez told NBC's Matt Lauer Monday on The Today Show .
"It's not time to think about that yet," she said. "It's still fresh."
People magazine reports that while at dinner with Spanish heartthrob Enrique Iglesias, Lopez gave Smart a special performance.
"After a festive dinner, she jumped up on the table and performed an impromptu dance in front of Casper, who sat there wide eyed and happy," an unidentified source told the Entertainment publication.
"She was having a blast and looked radiant."
You can reach Alexandra Gratereaux at: Alexandra.Gratereaux@foxnewslatino.com or via twitter: @GalexLatino