American Idol: Jennifer Lopez to Scotty McCreery: "It's Nice to See You Grow"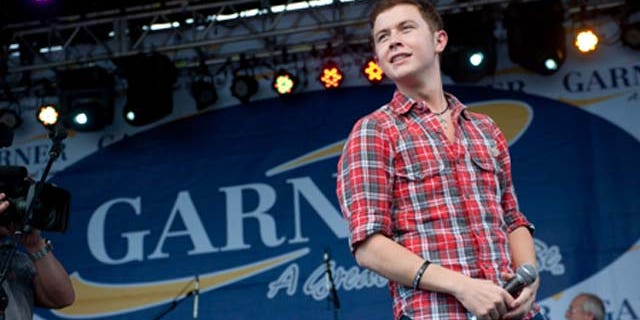 Scotty McCreery is pulling all the tricks out his bag – and he'll need every one of them to survive the next two weeks of American Idol.
McCreery, 17, who has Puerto Rican roots, slammed his three performances Wednesday night. The country singer hit high notes and deep tones, and gracefully showed off the range of his musical abilities.
"He is so incredible," said pop superstar Beyoncé, who took some time to advise the last three contestants remaining on Idol. "He really does have such a charm. It's innocent and he's really a cutie pie."
The "Single Ladies (Put A Ring On It)" singer was blown away when she listened to McCreery rehearse live.
"His voice is just so full and warm," Beyoncé said minutes before debuting the music video of her new single, "Run The World (Girls)". "If he nails it like he did with me people, will be surprised that he has, not only a beautiful deep voice, but that he also has range."
McCreery chose to sing Lone Star's "Baby I'm Amazed By You," a tune produced by Idol judge Randy Jackson, who said McCreery "is money."
His solid performance got Jennifer López's full attention, too.
"It's great to see you grow," López said. "I know that there are a lot of girls out there that wish you would be singing that song to them."
Nonetheless, it was Haley Reinhart who stole the show. Her first performance was with her father. More impressive, perhaps, was her recovery after taking a shocking fall on the steps of the stage.
"Everyone falls on stage. I've fallen, Beyoncé has fallen," said López. "But you kept going. That's the sign of a true professional."
Round two consisted of songs chosen for Idol's top three by Jimmy Lovine, an established producer in the music industry and co-producer of the show.
Lovine had McCreery sing Thompson Square's "Are You Gonna Kiss Me Or Not." The country contestant played his guitar with the number, and seemed to take in the moment.
"Try to capture that moment," López advised McCreery. "Being in the zone when you're so comfortable in your own skin, and that makes everyone feel comfortable."
López then requested that McCreery cut his hair for her the way he had it when they first met on his first audition.
"Am I the only one who liked him with the short hair and those rosy cheeks?" J.Lo asked as she laughed out loud.
For the last round, the judges chose "She Believes In Me" by Kenny Rogers for McCreery. They appeared floored by the performance.
"We wanted to see if you could hit that big chorus," López said. "You showed us! Good job, baby."
McCreery and his father locked eyes tenderly, as he told his son how humbling the Idol experience has been.
"I'm so proud of you, son," the elder McCreery said.
You can reach Alexandrra Gratereaux at: Alexandra.Gratereaux@foxnewslatino.com
or via Twitter: @GalexLatino
Follow us on twitter.com/foxnewslatino
Like us at facebook.com/foxnewslatino