American Idol: Jennifer Lopez to Scotty McCreery, "I'm In Love With You"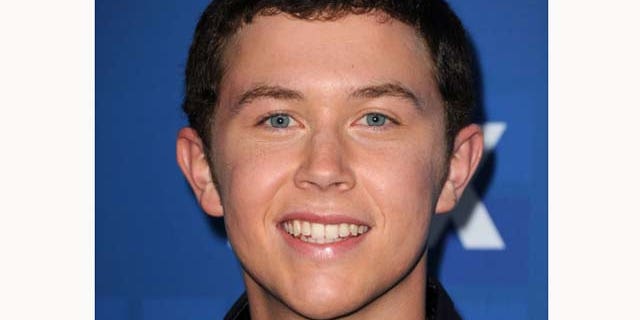 Scotty McCreery gave a top-notch performance on American Idol, performance showcasing his flexibility and creativity as an artist.
When asked to sing a song that inspired him, McCreery – with his guitar, accompanied by a violinist – performed "Where Were You When The World Stop Turning" by Alan Jackson.
"I'm in love with you. I can't help it," said Jennifer López. "[I love] what you stand for. You know who you are and that is the make of someone who is meant to do this. I am glad we are here to witness it."
Fellow judge Randy Jackson commended McCreery for his song choice.
"I think that is the perfect song choice in country," Jackson said. "You are headed for super stardom, and I hope you are ready for it."
McCreery was touched by the judges remarks. But, it was Aerosmith's front man Steven Tyler's comments who took McCreery over the edge.
"I get lost in your passion," Tyler said as he looked McCreery in the eyes, moved by the way he executed the performance. "It was beautiful."
McCreery's tears began streaming down his face. Minutes before taking center stage, the Garner, North Carolina, singer told American Idol host, Ryan Seacrest, how much winning the competition would mean to him and how much he misses his hometown.
"We've been at this, away from home, for three, four months now," McCreery said. "I would kiss the ground."
Besides letting America see his vulnerability, McCreery also showed his fun side, as he openly flirted and laughed with the Fame Monster, Lady Gaga, who offered to give the contenders advice on their performances.
"Hes just so funny," Gaga said. "But, he needs to stay on that microphone because no one is going to be able to enjoy the beautiful tone in his voice if he keeps pulling away."
"That's your girlfriend right there," Gaga told McCreery in reference to his maneuvering if the microphone. "You have to make love to the microphone. That's your money right there."
Seems as though McCreery didn't hesitate in putting Gaga's advice into practice for his second performance, in which he sang "Young Blood" by the Coasters.
"I think it was great!" López said. "You hit your stride."
Jackson appreciated McCreery's dual personality on stage throughout the evening.
"I love that you come out and you are having fun then you come out and you are serious," said Jackson. "We saw both sides of a Scotty concert. You're like a seasoned professional now on this show."
Tyler, too, loved McCreery's loose side.
"You made Gaga's yaya go lala," he said. "I love the humor, man."
McCreery expressed his hope for the future on the show and looks forward to making it to the top three.
"For me to be able to get on that stage and connect to all those people at one time," he said, "is just a great experience."
You can reach Alexandra Gratereaux at: Alexandra.Gratereaux@foxnewslatino.com
or via Twitter: @GalexLatino
Follow us on twitter.com/foxnewslatino
Like us at facebook.com/foxnewslatino