American Idol: For JLO Jeremy Rosado is Top 24 'Transcendental' Pick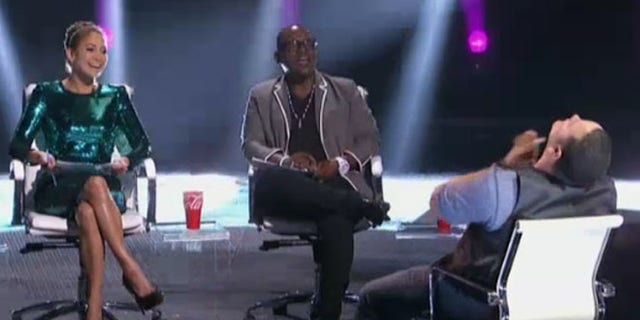 Who says nice guys finish last?
For Jennifer Lopez, it was one bittersweet finish in choosing the top 24 final contestants on Thursday evening's episode of American Idol, as she celebrated with another promising Latino voice on the show---Jeremy Rosado and felt compelled to bring an eliminated contestant---turning the top 24 into the top 25.
"[I] love him," Lopez said. "Beautiful voice."
Rosado, 19, blew the judges away with his pipes from day one, but it was his values and sweet personality that proved to the judges he is a force to be reckoned with.
Mexicana Flight Attendants Turned Calendar Girls Feud after Success
"We watched you very vividly," Lopez continued. "You would be cheering everyone one. I said he's such a nice kid."
Lopez said that his final performance at the Wynn Hotel in Las Vegas, Nev.'s "Le Reve" pool stage and his sweet personality left the judges speechless.
"All of who you are came out yesterday," she added. "It was transcendental. There's no way we wouldn't want you in the top 24."
Rosado was all smiled upon hearing the good news, since in past weeks he has developed a "tight relationship" and close bond with the rest of the Idol hopefuls.
American Idol's Pia Toscano's Sexy Style
"It's been a crazy," said Rosado. "I've been dreaming about this since I was 10 years old."
Others males such as returning contestants Aaron Marcellus and Deandre Brackesink had Lopez fighting for them to stay, again.
"Just how I fought for you last year, I fought again for you this year," Lopez told Marcellus. But this year I won.
"This year was different, JLO told Brackensink." "We be crazy, crazy people not to take you to the top 24."
For the female team it was Shannon Magrane who celebrated when she earned a coveted spot in the top 24.
Magrane raised eyebrows early in the first audition when it was revealed that her father, Joe Magrane, is a former St. Louis Cardinals' pitcher.
Jennifer Lopez and Marc Anthony Through The Years
Despite forgetting the lyrics during one of her performances, she gave Lopez "goosies" during her "Le Reve" audition.
"At the end of the day it's about the whole package," Lopez tolf Magrane.
Rocker Steven Tyler hoped that Magrane's father would forgive him after learning that she had made it to the top 24.
During Magrane's first audition, Tyler and papa Magrane didn't get off to a great start.
JR Martinez Wins 'Dancing With The Stars'
"It's hot human and happening, like your daughter," Tyler told Magrane about his all-women family.
"Does your daddy still hate me?" Tyler joked on Thursday after giving Magrane the life-altering news.
"I won't let you guys down," Magrane promised.
You can reach Alexandra Gratereaux at: Alexandra.Gratereaux@foxnewslatino.com or via Twitter: @GalexLatino
Follow us on twitter.com/foxnewslatino
Like us at facebook.com/foxnewslatino