'American Idol' Alum Danny Noriega To Compete On 'RuPaul' As Drag Queen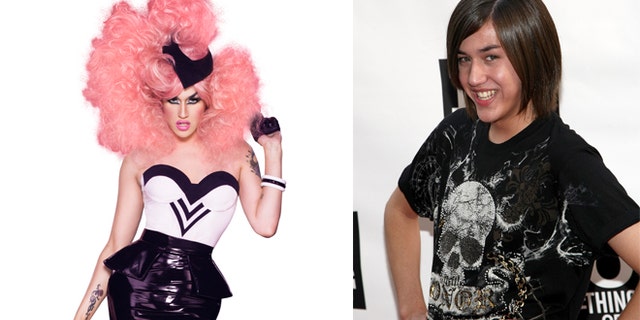 "American Idol" has been the "it" platform for many singers to break into the business. And while most have taken to music, season 7 alum Danny Noriega took a different path.
Looking very different these days, the now 24-year-old got rid of his famous perfectly purple-streaked emo hair and skinny ties to sign up for a new reality competition: "RuPaul's Drag Race!," Yahoo's Reality Rocks confirmed.
"In high school I dabbed in drag. I used to compete in singing competitions, like at the Christian college by my house," he told Yahoo. "And I, like, lived basically my life as a girl from 14 to 16. Right before I auditioned for 'American Idol' my mom made me kinda cut my hair off, but year, I was wearing makeup from, like 13 to 16, and I was like completely a girl from 14 to 16."
Since leaving "Idol's" top 16 in 2008, Noriega has reinvented himself into the fabulous drag queen Adore Delano, performing in drag shows across Southern California. Adore Delano previously auditioned for season 5 of "Drag Race," narrowly missing the cut.
"Immediately after 'Idol,' I was getting pulling in so many different directions… I was just an 18-year-old thinking he's on top of the world, that kind of thing, and I just kind of fell flat," Noriega said. "I feel like this time around, given an opportunity life this, especially something I'm so passionate about, is a blessing."
Describing Adore Delano, Noriega said "she's very, very vulgar, crazy. She's a party animal. She's fun… Everything I can't do as Danny, I can do as her."
Noriega, who sings live during shows, said he believes his biggest advantage going into "Drag Race" is that Adore Delano is "a diverse character."
"I think I'm versatile. I take good critique, I have a positive attitude, and I am I'm not delusional," he said. "It's good to treat life like a party when it comes to something as huge as 'Drag Race.'… We're all men in dresses, this is a party, this is a celebration – don't lose sight of that. That's just my whole take on it."
Follow us on twitter.com/foxnewslatino
Like us at facebook.com/foxnewslatino