New Season, New Attitude? JLo, 'Idol' Judges Have Nothing But Love For Each Other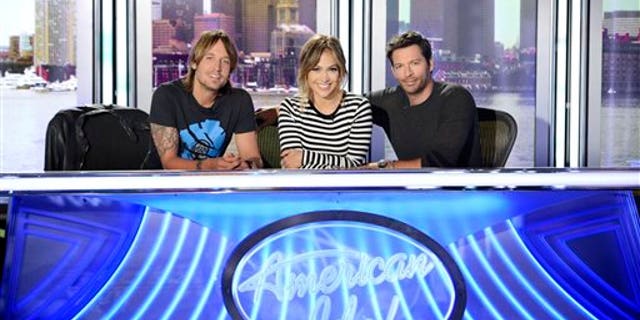 One thing's for sure, unlike last season, the "American Idol" judges on season 13 seem to be getting along just fine.
At an audition stop in Atlanta Wednesday, Latina superstar Jennifer Lopez said she was excited for people to see the funny side of Harry Connick Jr. and how much he knows about music.
"He incredibly funny. His music education is so far beyond the normal person I think," said the singer. "What he has to offer to America...is the art of singing, the art of playing, all of that... It's gonna be something new for the show."
When Connick Jr. was asked about Lopez, he returned the pleasantries.
"No one really has any idea what it takes to be Jennifer Lopez. I mean people say, 'Oh, I want that.' Well, if they wanted it they would do what it takes to get there and they don't even have a 10th of a percentage of an understanding to do what it takes. These people that are auditioning for this show are so lucky to have a minute of (Lopez's) time, whether they make it through or not because the essence of 'American Idol' is looking for a new superstar and Jennifer embodies superstar."
Lopez also said she has been surprised by how emotional Keith Urban is.
"I find that I'm like that and women are like that but to see a man so kind of in touch with that place it was really a pleasant surprise for me again. People got to know him last year but I think they're gonna get to know him even more this year."
Lopez sat on the judges' panel with Randy Jackson and Steven Tyler for seasons 10 and 11 of the show. She took season 12 off to go on a world tour. Keith Urban joined the show for season 12 and is returning for his second season. This is Connick Jr.'s first time judging.
"There's a lot of subtle change everywhere," said Urban. "Not just with us but with the way the show looks, the way it feels."
Two changes we know of: The results show has been cut to 30 minutes and Randy Jackson will remain on the show but in a mentoring capacity.
"American Idol" premieres its 13th season with a two-hour episode on Wednesday, Jan. 15, on Fox.
Based on reporting by the Associated Press.
Follow us on twitter.com/foxnewslatino
Like us at facebook.com/foxnewslatino