Alyssa Milano calls for gun control, healthcare reform in video protesting Brett Kavanaugh's SCOTUS appointment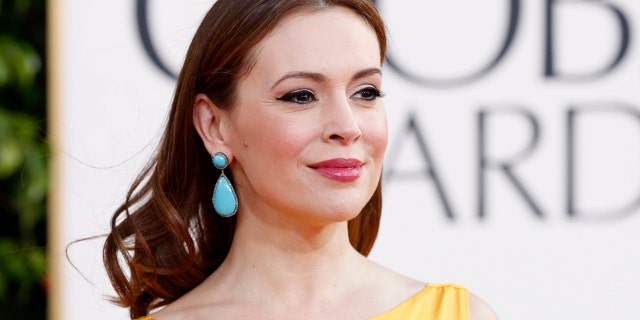 Self proclaimed actress and activist Alyssa Milano has released an emotional video calling for citizens to block the appointment of Supreme Court nominee Brett Kavanaugh.
The actress, who currently stars on Netflix's controversial series "Insatiable," appeared in a video produced by NowThis Opinions that she then shared to her Twitter feed. In it, she calls on Americans to stop Kavanaugh from being appointed to the Supreme Court by touching on subjects such as banning assault rifles, immigration reform and abortion rights.
The star, 45, opens the video speaking on behalf of Joaquin Oliver, a student who was killed during the mass shooting at Marjory Stoneman Douglas high school.
"I was one of 17 people who died in that school on that day. In six minutes, the shooter used an AR-15 to kill 14 students and three staff members," Milano says. "These weapons have no place in the hands of private citizens. These weapons should be banned. Brett Kavanaugh does not agree."
The star then pivoted into another speech on behalf of Jane Doe, a 17-year-old woman who allegedly crossed the border and was detained. She describes learning that she was pregnant and being unable to get an abortion.
"The Trump administration tried to stop me. Brett Kavanaugh tried to stop me," she says.
Finally, she speaks on behalf of Laura Packard, a woman diagnosed with stage 4 cancer who relied on the Affordable Care Act for health care coverage. However, she cites Donald Trump and Kavanaugh's records on this issue to paint a picture of an America where such people are in danger for their lives.
"We know what will happen because Brett Kavanaugh has shown us what will happen," she says. "Brett Kavanaugh will hurt us."
Milano closes the video by urging viewers to resist Kavanaugh's appointment as she feels he will only support Donald Trump's agenda, something she notes is bad given the Supreme Court's potential role in the event the president is subpoenaed by Special Counsel Robert Muller's investigation.
Throughout the video, which can be viewed below, the star pauses and gets emotional as she discusses the issues at hand.
This isn't the first time that Milano has publicly urged her fans not to support Kavanaugh's appointment. She was previously mocked on Twitter for posting a photo of herself protesting the appointment in the theme of the Hulu original dystopian series "The Handmaid's Tale."