Actress Roselyn Sánchez Is Eager To Add Another Child To Growing Family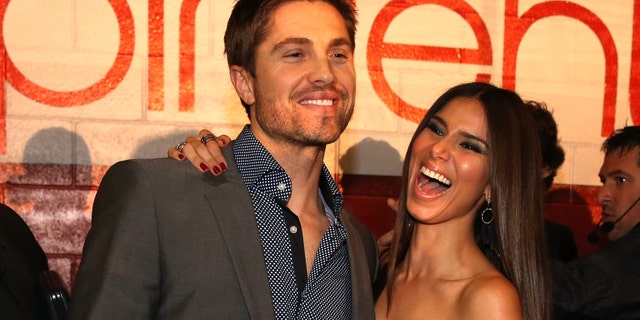 Actress Roselyn Sánchez knows what it means to come from a big family – she has three older brothers – and she wants her daughter Sebella Rose, 2, to experience what that's like in the near future.
The 40-year-old opened up to People magazine about expanding her family with husband Eric Winter.
"I don't want Sebella to be an only child," the "Devious Maids" star told People. "I don't know if it's because I grew up with so many brothers, but I do want her to experience what it is to have a sibling."
She continued: "So I would love to have one more soon … I hope it happens!"
And Puerto Rican beauty would love a little brother for Sebella Rose, who celebrated her second birthday at The Coop in Studio City, Calif.
"If I'm being completely honest with you, I would love to experience having a boy — especially because I grew up with three brothers and I understand the male energy," Sánchez said. "In my heart, I wish I could give Sebella a little brother."
But the baby's sex isn't what's most important. "Whatever God wants! As long as he or she comes out healthy, I'm fine," she explains.
Sánchez joked that if she had another girl though, it would have its perks.
"If it's a girl I'm going to save a LOT of money because I have everything I need for a girl!" she said.
If or when Sánchez and Winter add another baby to the mix, she said she will have enough help around the house to balance two toddlers and a successful TV show.
She added that her husband, 37, does help around the house.
"Everything! I can go to work and be perfectly comfortable and relaxed because he is a mom!" Sánchez said. "He's really, really involved. He cooks, changes diapers, puts her to bed every single night, plays with her — it's so incredible. I knew when I met him and I saw how he was with his mom — I knew, 'This guy's going to be a great dad because he just adores his mom.'"
But it's not all about the baby, said Sánchez , who opened up about how the two keep their five-year marriage alive.
"It's very important to us to still have date nights," she said. "Now, with the baby, it's different because we have to plan it with the nanny and the grandma, but at least every two weeks we have a nice dinner or a nice date night so we can just sit down and chill and speak."
She continued, "He makes me laugh like crazy so I think that keeps me super, super interested!"
Follow us on twitter.com/foxnewslatino
Like us at facebook.com/foxnewslatino