Actor accuses Brandi Glanville of assault at Casamigos Halloween party
Actor Kobie "DJ K-LUV" Randolph has accused former "Real Housewives of Beverly Hills" star Brandi Glanville of attacking him while at Rande Gerber and George Clooney's Casamigos Halloween party on Friday night.
The actor told TMZ in a video posted Saturday, a day after the Halloween party took place, that Glanville was with a woman who Randolph had previously dated and the woman attacked him and split his lip. And while the former reality star reportedly told cops that she helped to break up the altercation, Randolph claims that Glanville actually helped in attacking him.
"The 'Housewives' chick Brandi and her friend saw me, I thought it was all good, next thing you know I'm getting attacked," the actor claimed, going on to say that he was attacked by the women with "12 uppercuts" like "in a boxing match."
Randolph, who says he was dressed as the "black James Bond" for the party, shows off his bloody lip in the TMZ video and explained that no one helped him during the alleged brawl but instead, watched as "the minority" was attacked, highlighting that he was one of the only people of color at the event.
Glanville attended the A-list Halloween event clad an sexy latex bustier with arm-length gloves and fishnet tights. The ex-wife of actor Eddie Cibrian topped off her risque outfit with cat ears suggesting that she was going for the sexy cat costume look.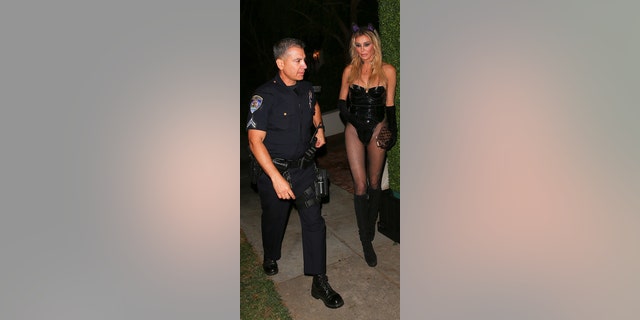 The star recently made headlines after news broke that her home was burglarized this week while she and her two sons, whom she shares with Cibrian, were at home.
On Tuesday the star tweeted, "People be very careful set your alarms even when you're at home. My house was burglarized yesterday while my kids and I were both there #scary."
In a follow-up post, the mother of two let her follows know that she and her family were OK following the robbery and said, "Thank you, everyone, for your kind words, prayers and best wishes,' she wrote. 'We are fine thank goodness!!! But I really appreciate you all for caring."
According to TMZ, cops showed up at the Hollywood party following Randolph's reported attack, but no one was arrested. The actor has since filed a battery police report.
Other celebrities that attended the annual Casamigos Halloween soiree included Paris and Nicky Hilton, Olivia Munn, Charlotte McKinney, Zoë Kravitz, Ryan Seacrest, Harry Styles and more.