ABC News demonstrates 'left-wing bias' leading up to midterms, critics say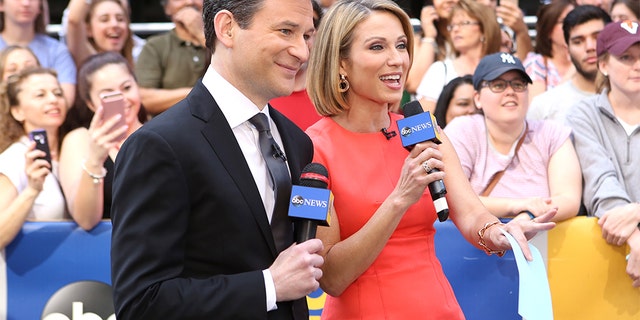 The most recent example of ABC News' apparent liberal bias appeared during Sunday's "Good Morning America" show when co-anchor Dan Harris pondered why Republicans even have a chance in the midterm elections.
During a discussion about Trump's approval rating with Bill Clinton spokesperson-turned ABC News anchor George Stephanopoulos, Harris asked "If President Trump is so unpopular, 40 percent in our new poll, which is historic low in this context, why is this not a blowout?"
Stephanopoulos explained to his colleague that "the economy is doing very, very well" and Republicans "appear to be engaged, ready to vote." NewsBusters analyst Nicholas Fondacaro wrote that Harris "was perplexed by Trump's strategy of sticking with the issues important to his base."
Fondacaro continued: "On top of the network questioning why Republicans still had a fighting chance on Tuesday, national affairs correspondent Tom Llamas took to the set to hype House races Republicans were struggling in… while Llamas called out struggling Republicans by name for those races, he didn't call out Democrats struggling in their Senate races."
Conservative strategist Chris Barron told Fox News that ABC News has "an unquestionable left-wing bias" that is visible in its coverage.
"Like far too many media outlets they have blurred the line between opinion and hard news journalism. Unfortunately, ABC's blurring of these lines is exacerbated by the fact that they have almost no diversity of opinion among their network's voices," Barron said.
In fairness, ABC News hired former Republican Governor of New Jersey Chris Christie as a political commentator – but the former Trump collaborator's presence hasn't silenced critics.
Esteemed media critics and DePauw University professor Jeffrey McCall told Fox News that "ABC decided years ago that it was going a certain direction when it hired George Stephanopoulos to do the work of a traditional journalist, as opposed to being a commentator or analyst."
"ABC is welcome to do that, of course, but it does indicate a lean. The viewers who watch ABC surely know what they are getting and watch with that understanding," McCall said.
Disney CEO Bob Iger has long been rumored to have political aspirations and recently was named "the most powerful person in entertainment" by The Hollywood Reporter. Both ESPN and ABC have been accused of having a liberal agenda under Iger and the Disney honcho admitted his sports network become overly political.
While ESPN has taken steps to back away from left-leaning politics, ABC continues to make showcase its agenda. ABC News chief political analyst Matthew Dowd recently called Supreme Court Justice Clarence Thomas a "sexual predator" on Twitter, while "World News Tonight" anchor David Muir has also been accused of skipping pro-Trump news in favor of Disney promotional content and putting an emphasis on angles that aren't favorable to the president.
ABC News' "The View" makes headlines on a regular basis as liberal co-hosts Sunny Hostin, Whoopi Goldberg and Joy Behar frequently use over-the-topic rhetoric to condemn Trump and members of his administration. The daytime talk show even announced last week that anti-Trump pundit Ana Navarro would be a regular guest host.
"When Ana Navaro being hired by 'The View' is what passes as ideological diversity, you know you are in deep trouble," Barron said.
Last year, then-ABC News reporter Brian Ross botched an "exclusive" report that sent the stock market tumbling when he reported incorrectly on live television that fired National Security Adviser Michael Flynn would testify that Trump had ordered him to make contact with Russians about foreign policy. The report raised the specter of Trump's impeachment and sent the stock market plummeting.
After ABC was forced to retract the report, ABC News President James Goldston said on a staff conference call that he'd never felt more "rage, disappointment and frustration" in his entire career. Ross was suspended for the debacle before being demoted and eventually leaving the network.
Back in 2016, ABC News anchor Martha Raddatz appeared to get choked up on Election Night when it became clear that Trump would defeat Hillary Clinton – although both Raddatz and ABC News denied that she was visibly upset.
Stephanopoulos' ties to Clinton also became a source of embarrassment to ABC during the presidential campaign, when he was caught secretly giving money to the Clinton Foundation. He had to recuse himself from hosting any presidential debates.
ABC News did not respond to requests for comment.