Aaron Carter writes letter about his sexuality: 'This doesn't bring me shame'
Singer Aaron Carter opened up about his sexuality in an emotional letter Saturday night, revealing he "started to find boys and girls" attractive when he was a teenager.
"To start off, I would like to say that I love each and EVERY ONE of my fans. There's something I'd like to say that I feel is important for myself and my identity that has been weighing on my chest for nearly half of my life," Carter, 29, wrote in a note posted on Twitter.
AARON CARTER BREAKS DOWN IN TEARS AFTER DUI ARREST: 'I DO NOT DRINK ALCOHOL AT ALL'
"This doesn't bring me shame, just a weight and burden I have held onto for a long time that I would like lifted off of me," he said. "I grew up in this entertainment industry at a very young age and when I was around 13 years old I started to find boys and girls attractive."
Carter announced he was bisexual, recalling when he was 17 years old and having his first experience with a man who he "also worked with and grew up with." He dated a few women before then, including Hilary Duff and Lindsay Lohan.
Carter's letter comes just weeks after he was arrested on DUI and marijuana charges while he was with his current girlfriend, Madison Parker. He was heading to a performance in Kansas City, Missouri, which he ultimately skipped out on.
AARON CARTER SAYS HE WON'T GET CAUGHT FOR DUI, THEN GETS CAUGHT FOR DUI
The singer later claimed he didn't drink alcohol and police had "forcefully grabbed" him out of his car.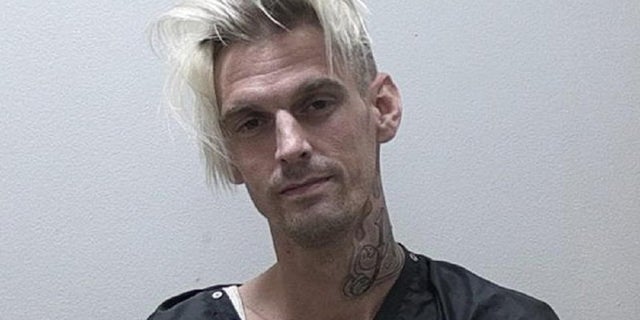 "I'll occasionally have a sip of a beer or something like that, but I can't even drink IPAs. I can't drink anything like that. I have to drink the lightest beer possible that's not hoppy. I do not drink any hard liquor," he tearfully told ET.
"I do not drink," Carter insisted. "Hire a polygraph person, a professional. Strap me up."